WV Gov Joins Push To Annex VA's 2A Sanctuary Counties | Bearing Arms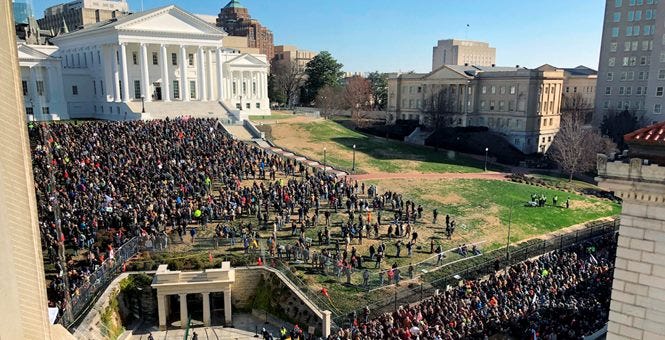 The governor was joined by Liberty University's Jerry Falwell Jr. in supporting Virginia counties that want to leave the state and be annexed by West Virginia.
Source: WV Gov Joins Push To Annex VA's 2A Sanctuary Counties
In a move that is more than a little ironic, the State that was formed in opposition to the Confederacy has turned more Confederate – whether it realizes it or not – than the one that was the capital of the Confederacy (which has, sadly, taken a violent swing to the Left). Here's West Virginia Governor Jim Justice:
"A long time ago, the infringement of fundamental values is what really created the beginning of West Virginia. Now, in doing so the government of Virginia was probably significantly out of step, and therefore all of a sudden counties moved and West Virginia was formed," the governor said during today's press conference...
Gov. Justice pointed out that a number of West Virginia lawmakers have recently introduced resolutions inviting Virginia counties to "come on down," and said he echoes that sentiment.
"If you're not truly happy where you are, we stand with open arms to take you from Virginia or anywhere you may be. We stand strongly for the Second Amendment and we stand strongly for the unborn. There are so many great things about West Virginia, and we're on the verge of moving in a way that you can't fathom."
Wouldn't mind if Maryland's western counties – which are in a similar place, sociopolitically, to those of Virginia – would join up, too!
It is true that, as this article points out, "Given the fact that the Virginia General Assembly" [ditto Maryland's, if that were to happen] "would have to give approval for any county to be annexed by West Virginia, I'd say this movement is more aspirational than practical." But that doesn't mean it's not a good idea!