What the New Pagans and Christians Have in Common | Intellectual Takeout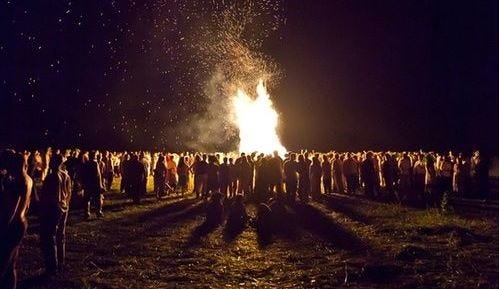 Off the top of my head, I can think of at least three major principles that traditional Christianity and paganism, broadly speaking, share in common...
Source: What the New Pagans and Christians Have in Common | Intellectual Takeout
A very interesting article / essay, which raises (in my opinion) some very good points. Inter alia:
"It has become commonplace among many Christians to quickly denounce these neo-pagan rituals and the people who participate in them. They see the increasing visibility of paganism as a fruit of secularism and a sign that the West is descending further into cultural darkness.
"But sometimes I wonder if this paganism — in some of its manifestations — has more in common with ancient Christianity than with many the whittled-down and demythologized versions of Christianity that are known as 'mainstream.'"
He goes on to list three points of commonality (please read the article for further explication of these points): 1) recognition of the importance of ritual, 2) a holistic view of life, and 3) a reverence for creation.
I agree; in fact, I have made similar arguments, repeatedly and in a variety of fora, for literally decades.
The failure of what post author Daniel Lattier accurately describes as "whittled-down and demythologized versions of Christianity" – I would add, overly-intellectualized and, indeed, quasi-Gnostic versions of Christianity – to embrace these principles is, I firmly believe, one of the reasons why it is losing ground both to secularism and to other forms of spirituality which do.
Please note that we are not talking about syncretism, here; we are not talking about blending doctrine, or paganizing Christianity. We are talking about basic, underlying principles that are common to both, because they stem from the human religious impulse itself: an impulse which is one of God's gifts to us, as humans.
In this context, I very much liked one of the comments that followed on Facebook, where I found the link to this post:
"Any assertion that changing seasons, folk rituals, astrological observance, herbal remedies, local festivals &c were "pagan" would have been met with bemusement in the Middle Ages.
"Such things were not pagan but human. Who doesn't notice the seasons and stars? Who doesn't have local legends and traditions? Only the deracinated postmodern man."
Just so. And I am quite sure that the likes of Tolkien and Lewis would concur!
---
N.B. "Deracinated" is not a word in common parlance today. Here is its definition:
to pull up by the roots; uproot; extirpate; eradicate.

to isolate or alienate (a person) from a native or customary culture or environment. https://www.dictionary.com/browse/deracinate
An apt term, I think, for the context!