Trump Calls Off Cold War II | The American Conservative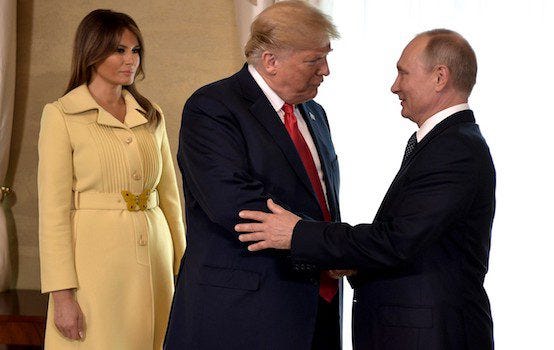 Source: Trump Calls Off Cold War II | The American Conservative
The "Trump Doctrine"...? Patrick Buchanan on President Trump's "clear, consistent, and startling" diplomatic message:
"Looking back over the week, from Brussels to Britain to Helsinki, Trump's message has been clear, consistent and startling.
"NATO is obsolete. European allies have freeloaded off U.S. defense while rolling up huge trade surpluses at our expense. Those days are over. Europeans are going to stop stealing our markets and start paying for their own defense.
"And there will be no Cold War II.
"We are not going to let Putin's annexation of Crimea or aid to pro-Russian rebels in Ukraine prevent us from working on a rapprochement and a partnership with him, Trump is saying. We are going to negotiate arms treaties and talk out our differences as Ronald Reagan did with Mikhail Gorbachev.
"Helsinki showed that Trump meant what he said when he declared repeatedly, 'Peace with Russia is a good thing, not a bad thing.'"
I must say, I agree.
---
Do you appreciate and/or enjoy these posts, and want to support The Anglophilic Anglican in my defense of Western Christendom, and enjoyment of Western culture and civilization?
Then please consider supporting me on Patreon!
Many thanks in advance.