The Prince of Wales visits Romania | The Royal Family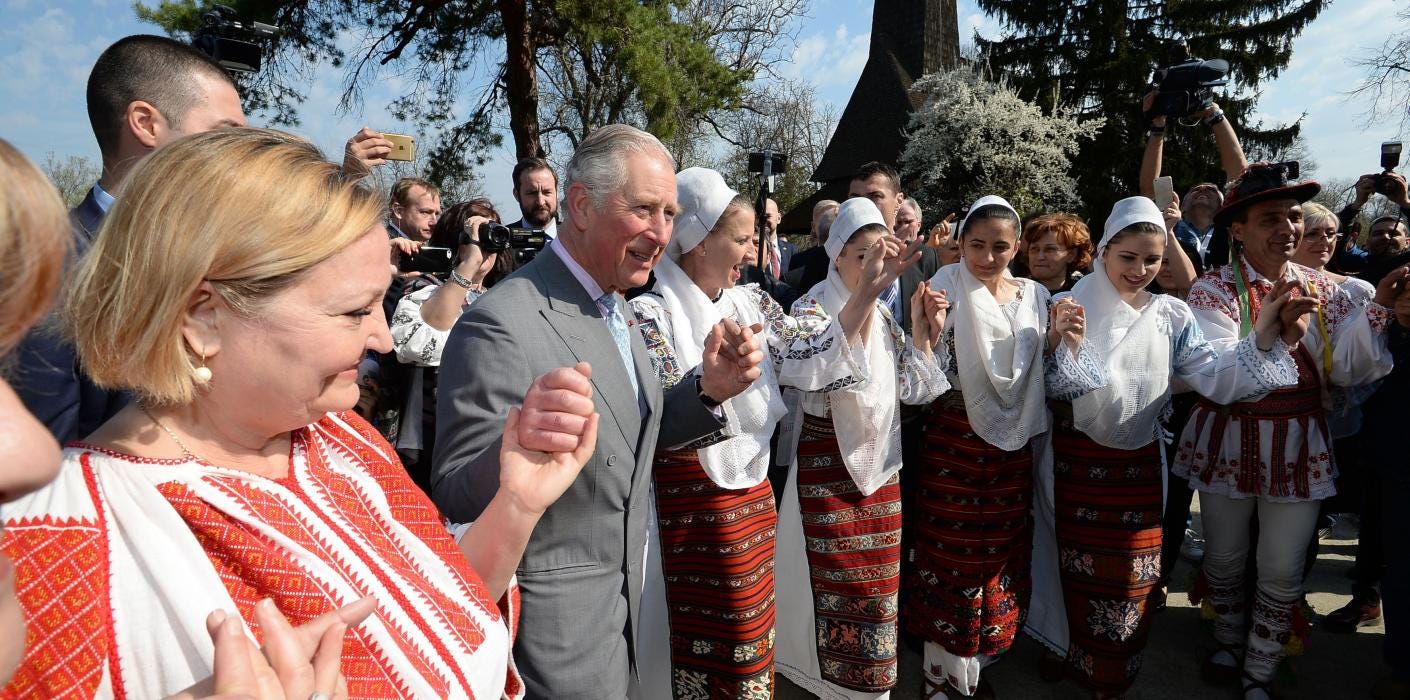 The Prince of Wales has spent three days in Romania where he visited a number of sites and charities and met many different Romanians from all walks of life.
Source: The Prince of Wales visits Romania | The Royal Family
The Royal Visit started at the NATO Headquarters in Bucharest where The Prince was able to meet British Military officers. His Royal Highness also took the opportunity to lay a wreath at the Tomb of the Unknown Soldier at the Romanian National War memorial.
At the Cotroceni Palace, the official residence of Romanian President, The Prince of Wales met the Romanian President Klaus Iohannis. During the meeting President Iohannis presented The Prince with the The Order of the Star of Romania, Romania's highest civilian order.
The following day The Prince of Wales visited the Village Museum in Bucharest where he was welcomed by people dressed in traditional Romanian folk costumes. In celebration of Romania's cultural Heritage His Royal Highness took part in the dance known as the 'Hora'. The Prince was also able to see many examples of traditional Romanian crafts such as wooden tile making and egg decorating.
His Royal Highness also visited the Patriarchal Cathedral in Bucharest, where he met Patriarch Daniel, the head of the Romanian Orthodox Church, and later met with Their Royal Highnesses Crown Princess Margareta and Prince Radu.
His visit included a number of visits to local charities, including one of which he is Patron – the FARA Foundation, a charity that "transforms the lives of vulnerable and traumatised children and young people" – and highlighted work that is being done to combat human trafficking and modern day slavery.
The article notes that HRH visited The Old Princely Court in Bucharest: built in the 15th century by "Vlad The Impaler," an ancestor of The Prince! Vlad has a bit of a bad rap in the U.S., mainly due to his heavily fictionalized connection with Bram Stoker's character, "Dracula."
More on that in a separate post...
For now, suffice it to say that Vlad's ire was directed primarily toward the Ottoman Turks who were attempting to invade and subjugate the area – which gives the story an eerily contemporary relevance, given the actions and attitudes of present-day Turkey, under its President Erdogan!
---
If you liked this post, or found it interesting or helpful, please consider supporting me on Patreon. Thank you very much in advance!