The feast of St. Joseph of Arimathea | Holy Smokes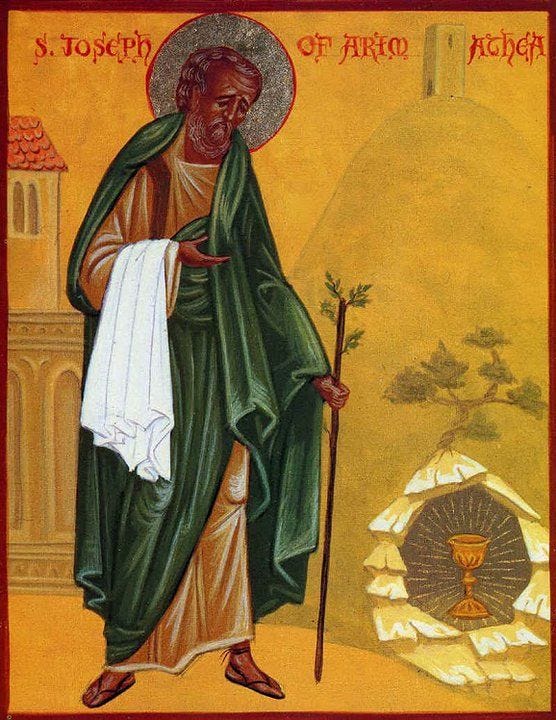 August 1st is the feast of St. Joseph of Arimathea in the United states (July 31 in the east). His story is one of mystery and tradition...
Source: Holy Smokes: The feast of St. Joseph of Arimathea
And did those feet in ancient time Walk upon England's mountains green? And was the holy Lamb of God On England's pleasant pastures seen?
— William Blake, "And did those feet in ancient time? (Jerusalem)"
Today is the commemoration of St. Joseph of Arimathea (as found in "Lesser Feasts and Fasts 1963," approved for use in the UECNA), who is best known from the Gospel accounts as the one who gave his tomb to be the burial place of our Lord, Jesus Christ, following his crucifixion. The Collect for this day reads:
O MERCIFUL God, by whose servant Joseph the body of our Lord and Saviour was committed to the grave with reverence and godly fear: Grant, we beseech thee, to thy faithful people grace and courage to serve and love Jesus with unfeigned devotion all the days of their life; through the same Jesus Christ our Lord. Amen.
He – Joseph of Armimathea – may have another significance, too, especially for those of us who are of the English tradition. There is a persistent legend that Joseph was not only the recoverer of Jesus' body, but his uncle, and a tin-merchant with trading contacts as far afield as Cornwall, in what was then the Roman Province of Britannia; and that he took the young Jesus with him on a trip there during the so-called "lost years" of Jesus' life.
There is even a tradition that when Joseph thrust his thornwood staff into the ground, it took root, flowered, and blossomed, becoming the famous Glastonbury Thorn that survives to this day near the old Abbey of Glastonbury. It is, at any rate, this legendary trip (which cannot be conclusively proven – nor for that matter, disproven) which serves as the inspiration for the lines from the poet William Blake, quoted above, which became the well-known hymn, "Jerusalem":
[embed]https://youtu.be/MKRHWT6xdEU[/embed]
Personally, I tend to believe this pious legend – or at least give it the benefit of the doubt – and to consider that there is at least a good chance that "those feet in ancient times" did indeed "walk upon England's mountains green"! Britain was in ancient and medieval times known as a particularly holy island, and what better reason for that, than that our Saviour did indeed grace "England's green and pleasant land" with His sacred footsteps?
In any case, wishing you a blessed Feast of St. Joseph of Arimathea!