The End | American Greatness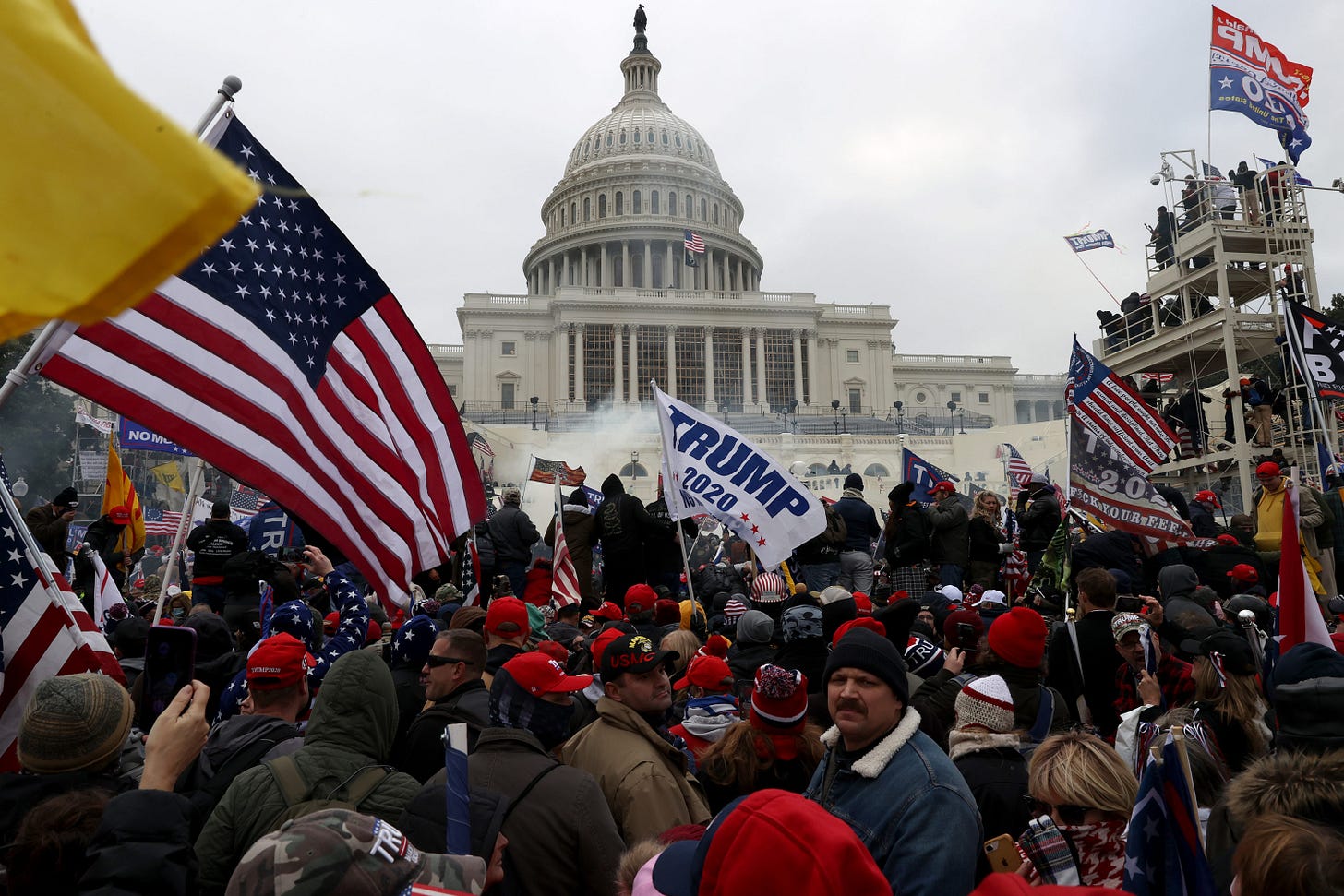 Source: The End - American Greatness
Well, the saga of the 2020 General Election ended in a way few could have predicted, when a small group of the much larger number of peaceful protesters who were there supporting President Trump – and objecting to the utter failure of either Congress or the Supreme Court to seriously address legitimate and widespread (far from "baseless," as the mainstream media continually claims) allegations of voter fraud – broke into the Capitol in Washington, DC.
In the ensuing fracas, one woman, identified as 35-year-old Ashli Babbit, a 14-year Air Force veteran and Trump supporter, was shot and mortally wounded by Capitol Police. Ms Babbit was unarmed at the time. Three other individuals who appear to have been involved with the protests have also died of "medical causes," and one Capital Police officer appears to have succumbed to unspecified injuries; few details of these cases have been released.
Needless to say, I do not condone an assault on the Capitol, no matter what legitimate grievances those of us who supported the President (or oppose the increasingly hard-Left stance of the Democratic Party) may have. But I would be a lot more emphatic and unequivocal in my condemnation if the Democratic Party had not turned a blind eye to – and in many cases, actively supported – violent riots, vandalism, looting, and burning, not to mention assaults on persons and several deaths, this past summer and indeed extending all the way back to the aftermath of the 2016 Election.
Let us remember that more than 200 were arrested in violent anti-Trump riots on Inauguration Day (January 21st), 2017. In October of 2018, opponents to Supreme Court nominee Brett Kavanaugh took over the Hart Senate Office building, to great applause by the Democrats. In June of that same year, Democratic Representative Maxine Waters had called on followers to confront and harass White House officials and members of Trump's Cabinet – and their families – wherever they might be.
And of course, this summer, Democratic officials on all levels of government actively encouraged, aided, and abetted the BLM rioters. Speaker of the House Nancy Pelosi went so far as to call federal riot-control officers "stormtroopers," and responded to rioters in Baltimore – her native city! – who pulled down a statue of Christopher Columbus and then tossed the monument into the city's Inner Harbor with a dismissive "People will do what they do."
Democratic Mayor of Seattle Jenny Durkan referred to the destruction of a police precinct on Capitol Hill there, along with the establishment of an "autonomous zone" which resulted in mass vandalism, attempted (or actual) arson, multiple assaults, and the fatal shooting of a 19-year-old, as a "summer of love" event. And VP-elect Kamala Harris and a number of Biden staffers supported a bail fund to free those arrested for rioting; those released included at least one child abuser.
And this past June, large swatches of DC were ablaze, and the President was temporarily ushered into a bunker, to the complete absence of Democratic outrage – a least, any directed toward the rioters. In fact, it was the measures taken to bring the rioting under control that brought Democratic opprobium!
After standing back and standing down – even cheering – while cities burned, now the Democrats are suddenly the party of law and order? Sorry, not buying it. That is at best disingenuous; a more accurate characterization might be one of blatant and egregious mendacity and hypocrisy! A good deal of the blame for what happened in DC on Wednesday can and should be laid directly at the doorstep of the Democratic Party. Despite their constant efforts to shift responsibility to President Trump, THEY are the ones who let this genie out of the bottle. But of course, they are counting on the short memories of much of the American voting public.
In any case, I think the linked essay is a sadly all-too-accurate assessment of the situation as it currently stands.
To be fair, although President Trump was let down by many he should have been able to count on, he was not perfect in his own actions and reactions, either. Some of that was likely based on poor advising, but honesty compels my admission that some of it was just his own personality: there have been times when he has been his own worst enemy, and sadly, it seems that this is one of them. There is good analysis to be found, I think, in this interview with former White House communications director Alyssa Farah, and in this assessment by Fox commentator Tucker Carlson.
Carlson is particularly on-point, I think, when he warns that "freedoms are more important than any single politician," and that Trump's base – 74 million ordinary Middle Americans who believe in "making America great again" and in what used to be normal, middle-of-the-road political and social norms – are in danger from Democrats who will be fired up and feeling their oats after not only a hard-fought electoral victory, but what looks like the perfect excuse for retaliation. Carlson notes that
"Thirteen days from now, these voters will not have Donald Trump to protect them, they won't have anyone unless the Republican party decides to wake up and push back against the lies and progress and acknowledge the purpose of those lies which is an unprecedented crackdown on the way you live... The point of the Republican party is to protect its voters. In practice that means protecting the Bill of Rights, the most basic freedoms and bedrock promises of American life – without them you wouldn't want to live here."
He further describes the incidents at the Capitol as a "political protest that got out of hand after the president recklessly encouraged it." (Note: President Trump did not encourage anyone to attack the Capitol! But some of what he did say could well have been misinterpreted by hotheads in the groups.) Carlson adds, however, that to call the events "insurrection" or "domestic terrorism," as many Democrats and leftist media talking heads have, is an exaggeration – a major one, I would say! – and warns that Democrats are using the Capitol storming as a "pretext for an unprecedented crackdown on civil liberties."
Sadly, I fear he is all too correct. I fear for our country, in the next two-to-four years. May God help and protect us!