The classic Ploughman's Lunch: a how-to, from the UK's "The Guardian"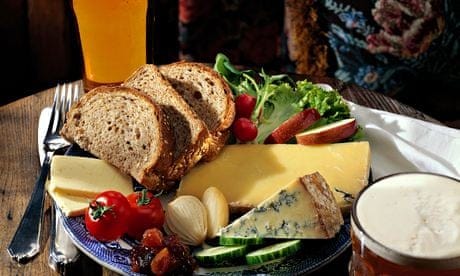 How To Eat is in a country pub trying to enjoy a ploughman's lunch. But an argument is raging...
Source: How to eat: a ploughman's lunch | Food | The Guardian
"This month, How To Eat is in a country pub trying to enjoy a ploughman's lunch. But an argument is raging about what that means. Ham? One cheese or three? Is pate OK? Are pickled onions edible? Is this a sharing dish or best enjoyed solo?"
And here I had always thought that a "ploughman's lunch" was the soul of simplicity: a thick slice of bread, a wedge of cheese, and a pickled onion, with a pint of ale! Who knew that there was this much controversy...? But there is, seemingly. To begin with,
"Pedants will take great pleasure in pointing out that this 'classic' was only actually given a name and a PR push in the 1960s, by the Milk Marketing Board; but people, including some ploughmen, had been eating bread and cheese with beer for aeons. Therefore, no matter how it has been glossed, this stands as a much-loved British meal, and one which people feel passionately about."
Indeed! I would venture to guess that this was probably one of the most common, if not the most common, midday meals for working people in the countryside at least back to the Middle Ages, and probably beyond – so long a bread, cheese, and beer existed!
Bread and aged, hard cheese have the inestimable advantages of being easily portable, keeping well, and being relatively resistant to being dropped and knocked about; they also provide a good balance of protein and carbohydrates, to keep a person's energy levels up whilst working in the fields.
And of course beer has been ubiquitous at least since the Sumerians... in fact, it's been argued that grains may have been used for beer-making even before bread-making, making the brewing of beer the foundation of civilization!
Bread and cheese are similarly ancient: bread is now thought to possibly predate agriculture itself; while the first solid cheese dates back at least to the 13th century B.C., while "the earliest evidence of cheese-making in the archaeological record dates back to 5500 BCE, in what is now Kujawy, Poland, where strainers with milk fats molecules have been found."
It doesn't take the proverbial rocket scientist to imagine our forebears quickly realizing that these are (if I may adapt from an old advertising jingle) "three great tastes that taste great together"! And of course, the mildly intoxicating qualities of beer may have helped to ease the pain and stiffness of muscles strained by hard work in the field.
But now, back to Britain and the Ploughman's Lunch: "How to Eat" includes these minimal components of the meal: "Bread, cheese, ham and some sort of pickled dimension. Traditionalists may question the necessity of ham, but without it this is just bread 'n' cheese, not a ploughman's." Call me a traditionalist (for I am, in many ways), but I was surprised to see ham in there!
No objection, mind you, from a culinary perspective. But I do wonder how authentically "ploughman's" that is: unlike the bread, cheese, and beer, ham is more inclined to go "off" (spoil) in the hot sun. But if one is enjoying in the cool of the local pub, then by all means! I'm never one to refuse cured pig flesh... At least they are cautious to warn that the ham in question "should be baked, thick-cut, 'proper' pig, no limp, wet boiled ham" or "thin, pallid, suspiciously uniform slices." Hear, hear!
At any rate, read the article for more mouth-watering suggestions for taking this meal from a convenient, if unassuming, packet for a ploughman's satchel to a culinary experience of high degree. Whether you limit it to bread, beer, cheese, and something pickled – with maybe an apple thrown in – to include boiled eggs or a slice of cold pork pie, watercress, radishes, or celery, and possibly even a "dessert" of fruit bread, it's a sturdy, filling, and flavorful meal for anyone: not just an authentic ploughman!