The charge of the Winged Hussars: the lifting of the Siege of Vienna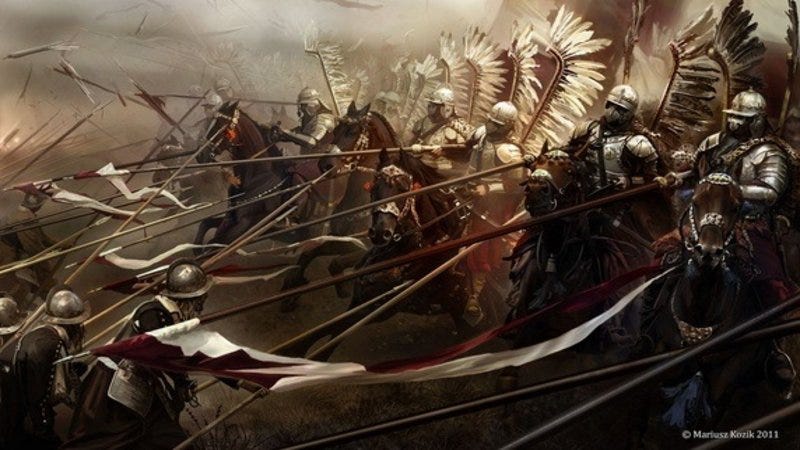 Some further details on the lifting of the Siege of Vienna:
On this day in history, September 12, 1683, the combined forces of the Holy Roman (German) Empire and the Polish-Lithuanian Commonwealth (the Holy League), under the overall command of King Jan III Sobieski of Poland, moved into position to engage the Ottoman Turkish besiegers outside the walls of Vienna. Fierce clashes followed. Imperial / Holy League forces made headway against the Ottoman invaders, but were unable to conclusively defeat them.
At around 3:00 in the afternoon, King Jan began to move his cavalry into position. As they came out of the woods and began to form up, they were greeted with enthusiastic cheers by the allied troops. An hour later, about four o'clock, the Polish Winged Hussars launched an attack which battered the Turkish lines, causing great consternation and forcing the Turkish general to retreat to a more favorable position. Infantry forces continued the fight against the Ottomans.
At six o'clock came the final blow. In the largest cavalry charge in history, King Jan Sobieski launched 18,000 cavalry, led by his 3,000 Winged Hussars, against the Ottoman lines. They clove through the Turks like the proverbial "hot knife through butter," breaking and scattering them completely and driving them from the field. As the attack crested, the Austrian defenders of Vienna sallied from their city to join in, adding the crowning blow.
The siege of Vienna had been broken, and the decades to follow would see the Muslim Turks driven almost completely out of Christian Europe. After the battle, King Jan III Sobieski (who would receive the title Defensor Fidei – "Defender of the Faith" – from Pope Innocent XI) reportedly announced, in an intentional modification of Julius Caesar's famous phrase, "Veni, vidi, Deus vicit" -- "I came, I saw, God conquered."
Footnote: the Lithuanians have not been mentioned. That's because King Jan left his kingdom almost completely undefended, bringing his entire army to the relief of Vienna! As a result, the Hungarians decided to take advantage of the situation and try to take Polish territory. The Lithuanians, also marching toward Vienna, turned aside to counter-attack the Hungarians. They were successful in driving them back, but it meant that the Lithuanian army did not arrive at Vienna until several days after the siege had been broken.