The 2nd Amendment, firearms safety, and equality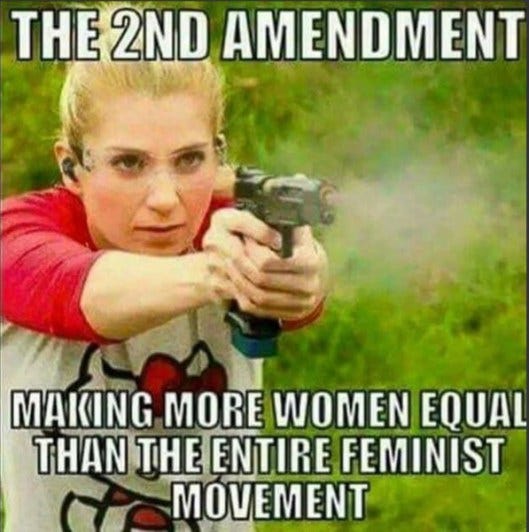 Source: Stately McDaniel Manor | Culture, Politics, Firearms, Education, Literature, Philosophy, Music, And Other Musings
The Declaration got it mostly right ("all men are created equal..."): to slightly paraphrase a classic aphorism, "God made human beings, Col. Sam Colt made them equal!" One of the few areas in which I do not admire England / Britain is their draconian gun-control policies. Leaving people defenseless against those who wish them harm is morally vicious, and poor public policy.
In related news, Mike McDaniel of the Stately McDaniel Manor blog reports that accidental deaths due to firearms have declined dramatically, despite more firearms than ever being sold:
Despite gun sales reaching record numbers in the last two years, accidental gun shootings are at an all-time low, a surprising finding by the National Safety Council. In its annual "Injury Facts" report, the group put accidental gun deaths in 2015 at 489.
That is the lowest since 1903, when record-keeping began, and a 17 percent one-year drop, and is "about three-tenths of 1 percent of the 146,571 total accidental deaths from all other listed causes," according to the National Shooting Sports Foundation, which represents the firearms industry. It is a remarkably low number, and underscores the fact that law-abiding gun owners are among the most careful and responsible folks out there.
It is especially notable in light of the very large number of legally--owned firearms in America. In 2015, an additional 23 million firearms were sold – a then-all-time-high – and last year, 2016, the number surged to 27 million: spurred, as McDaniel notes, by fears of what a possibly Hillary Clinton presidency would mean to firearm ownership. Yet despite the tens, even hundred, of millions of firearms in legal hands, the number of accidental deaths in 2015 was... 489. That speaks highly of gun owners!
It also flies in the face of claims made by anti-gun advocates that "safety" is one of the reasons they are attempting to enact additional measures limiting our Constitutional rights and freedoms where firearms are concerned. Estimates range – sometimes widely – but it is probably fair to say that somewhere between 30% and 40% of American households have at least one firearms, with an estimated total ownership of 256 million firearms.
And the total number of accidental deaths due to firearms use is under 500? I'd say we're doing pretty good!
Oh, and that equality issue I mentioned? The sexual dimorphism inherent to our species means that women tend, on average, to be about 15% smaller than men, and only around 60% as strong – again, on average. This means that women are at a significant disadvantage when attempting to physically fight off would-be male attackers.
Firearms significantly redress this disadvantage: the original aphorism I with which started this piece stated (variations on) "God created men, Samuel Colt (inventor of the first practical repeating handgun) made them equal."
This is even more true where women are concerned!