Plausible distractor: gun control, contemporary culture, and school shootings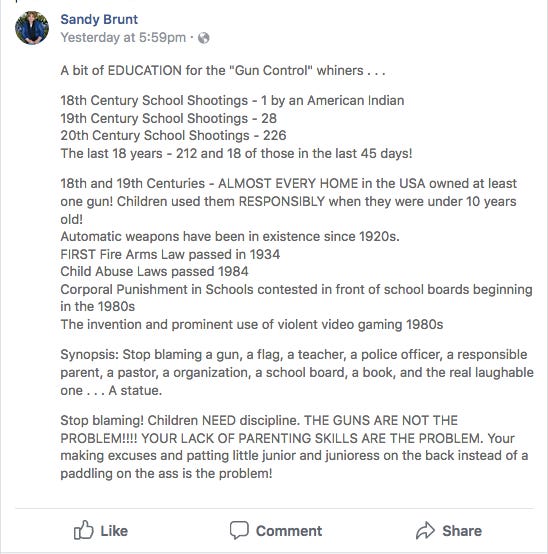 Many or most, if not all, of my readers will be aware that there was a mass shooting at Marjory Stoneman Douglas High School in Parkland, Florida, on Wednesday, February 14, 2018, which resulted in 17 deaths and wounded 14 others. I shall not here identify the perpetrator, who appears to be a deeply disturbed and sinister young male – I certainly will not dignify him with the title "man."
It has not taken long for the left-wing media – following Rahm Emanuel's infamous dictum "never let a good crisis go to waste" – to politicize this latest tragedy, and use it as the latest argument in favor of stripping Americans of our God-given and Constitutionally-guaranteed right to defend ourselves. The irony in that will not be lost on those who have not succumbed to leftist ideological indoctrination.
Fortunately, not everyone has, and a good friend of mine posted the above on Facebook. I shared it, with a few added points which I reproduce here:
Automatic weapons were available to civilians for a brief period following the First World War, and prior to the National Firearms Act of 1934, after which they were and are NOT available to anyone who is not the holder of a Class III Firearms License – which is very hard to get, and requires extensive background checks and monitoring (and expense). When they WERE available, use of them in crime was limited to gangsters, which in those days meant organized crime families (which is why they were limited). So "automatic weapons" or "assault weapons" are a non-issue: as regards the civilian population, they do not exist.

And lest you say, "b-b-b-but large-capacity magazines and semi-automatic rifles...!" let me remind you that the Texas Tower shooting, the first "mass shooting" by modern standards, which occurred in 1966, was committed largely with bolt-action and pump-action firearms.

Let me remind you further that mass shooters are highly motivated individuals, who are unlikely to be deterred by such minor details as lack of availability of their preferred (or any) firearms. The Oklahoma City bomber did not need guns to kill 168 people and injure 680 more. The 9/11 hijackers did not need guns to kill nearly 3,000 people and terrorize a nation, scarring its psyche in ways that still linger. Terrorists in various locations, including New York City last year, have not needed guns to kill large numbers of people by ramming them with vehicles. Someone who is sufficiently determined to cause a massacre will find a way of doing so. And while banning guns may make them think a little harder for a little longer, it's not going to prevent it; it is going to make things more difficult for law-abiding citizens who want to defend themselves and their families, or use firearms for sporting purposes.

And that "18 school shootings in 45 days" meme that's making the rounds? That includes eight incidents with no injuries or fatalities, two attempted suicides, one shot fired during the course of a fight, and two others that resulted in a single student being slightly wounded. And that is according to records found at "Everytown for Gun Safety," Michael Bloomburg's anti-gun advocacy group, which uses a very lenient (one could argue, highly misleading) standard: "any time a firearm discharges a live round inside a school building or on a school campus or grounds," it counts as a school shooting, regardless of whether or not the shooting results in injury or death. While any and all of these are regrettable, placing them in the same category as what happened in Florida is disingenuous, to put it mildly.
It is very easy to place the blame for tragic incidents like the recent Florida shooting on firearms. But – although the military is working on autonomous (AI) weapons (a concerning development, but tangential to this) – no firearm currently available to civilians is capable of engaging a target on its own. It requires a human being to make that decision and act on it.
The 1931 girls' rifle team outside Huntington High School, Huntington, New York.
In the 1950s and 60s, it was commonplace for students to bring firearms to school, for hunting purposes, often leaving them plainly visible in gun-racks in their pickups on the parking lot, or sometimes keeping them in their lockers. Yet there were no school shootings. During the same period (and for decades prior), high-school shooting teams were common. Again, no school shootings. Teenaged students even carried firearms on public buses and trolleys, on their way from their homes (or schools!) to the outskirts of town to hunt. Again, no shootings resulted.
The issue is not a gun issue. That's an obvious but a misleading target – a "plausible distractor," in testing terms. The issue is a societal and cultural issue, and a moral issue. It is a whole lot easier to say "ban guns" than it is to wrestle seriously with where we, as a culture, might have been going wrong – might be continuing to go wrong. And there is no single answer to that question, either; it is almost certainly a multiplicity of wrong steps, in a variety of areas.
These include, but are not limited to, the failures of parenting Sandy mentions, plus breakdown of stable family units in general, the rise of media and recreational opportunities (including music, videos or other visual media, the video gaming Sandy mentioned, etc.) that glorify amoral or immoral violence while minimizing its consequences, the breakdown of traditional religious observances and the moral guidelines religion has traditionally provided (see Washington's Farewell Address), and the breakdown of cultural cohesion – and the stability that provides – in a variety of ways. There are probably many others that I have missed.
And until we seriously and constructively address these issues, the problem will continue. Banning or limiting (any more than they are already limited, which is severely) firearms will not solve it, it will only make things more difficult for law-abiding citizens, and chip further away at our freedom.
P.S. I have seen a number of worthwhile comments come across my newsfeed today. Here is one:
"We have to understand that even if we secure every school to were a mouse couldn't get entry with a pea-shooter, it's a band-aid. What then: shopping malls, fast-food restaurants, hospitals? We have a much more fundamental, philosophical and spiritual problem. When was the last time the great works of western philosophy and ethics were taught in our schools? When did we last focus our children on the big questions of the human condition, questions addressed by the great thinkers of Western Civilization? Could it be back in the last days when we had no mass school shootings? Do we really believe we could turn our back on the great projects of Western Civilization and not loose a hold on civil society itself?"
Indeed. To tear a plant up from its roots and not expect it to whither is the height of insanity. And of course, the diminution and marginalization of traditional religious faith – particularly the Judeo-Christian religious tradition – and the moral standards which come from it has played a major role in stripping our society of its moral compass.
And then there was this comment, from a Washington sheriff, interviewed today: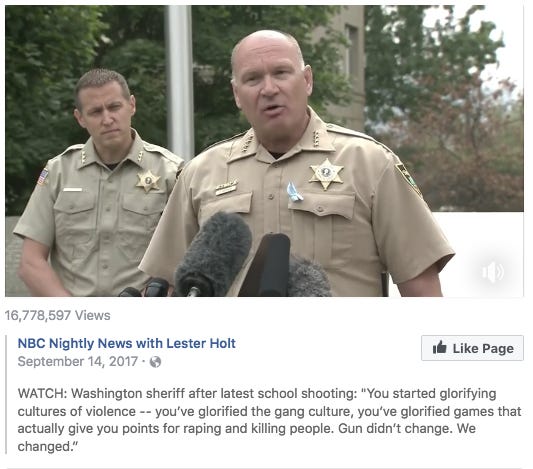 Here is the video clip, in which he reinforces a lot of what I've said, above – only a lot more succinctly:
[embed]https://www.facebook.com/nbcnightlynews/videos/10155875993533689/?hc_ref=ART-KArIeX-DYNfCUK4T7XoK0rzy6JLjHZylRUc99oTeeYoTSpyr8JzRVLeGiAXBIB0[/embed]
We have viewed abandoning traditional social and cultural norms, traditional moral values, traditional religious faith, traditional child-rearing practices, and much more, as being "progressive," and trumpeted this abandonment as great advances in the human experience. But as C.S. Lewis presciently put it,
"We all want progress. But progress means getting nearer to the place where you want to be. And if you have taken a wrong turning then to go forward does not get you any nearer. If you are on the wrong road progress means doing an about-turn and walking back to the right road and in that case the man who turns back soonest is the most progressive man. There is nothing progressive about being pig-headed and refusing to admit a mistake. And I think if you look at the present state of the world it's pretty plain that humanity has been making some big mistakes. We're on the wrong road. And if that is so we must go back. Going back is the quickest way on."
― C.S. Lewis, The Case for Christianity
Amen.