On "Silent Sam," Massachusetts, and complicity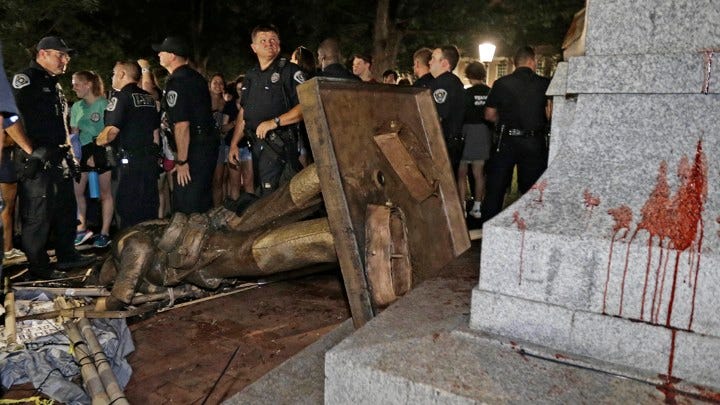 There is a meme making the rounds to the effect that Massachusetts – of all places! – was the first colony to legalize slavery, doing so in 1641.
Well, guess what? It's true. I've confirmed it from multiple reputable sources online (here is a link to the most concise one I've found; some of the following dates come from this timeline).
In addition, in 1643, the New England Confederation, a "military alliance of the English colonies of Massachusetts Bay, Plymouth, Connecticut, and New Haven," adopted a fugitive slave law, meaning that an escaped slave, if found, would be returned to his or her master. And in 1650, Connecticut legalized slavery. Note: Virginia didn't pass its fugitive slave law until 1657, although it did pass a law allowing blacks to hold slaves (!) in 1654.
In 1652, Massachusetts required all black and Indian (Native American) servants to receive military training, just like white citizens; but ten years later, in 1662, rescinded that decree, no longer allowing them training in arms. New York, Connecticut, and New Hampshire passed similar laws restricting the bearing of arms by blacks, in that same year.
Also, the slave trade in North America (although they were originally indentured servants; lifelong servitude was not a thing in the early days) began with the launching of the first slave-carrying ship, the "Desire," in 1636. Care to guess where she was built and launched? Again, Massachusetts.
Now, I'm not beating up on Massachusetts. I love the Bay State, its topography and climate, its quaint villages, its glorious Fall foliage, its delicious seafood, and its many and (mostly) positive contributions to our collective history, from Lexington and Concord to its intimate connection with the sea (did I mention seafood?).
But part of that seafaring tradition included the slave trade, part of the "Triangle Trade" (a.k.a. "Triangular Trade") that linked the American colonies to Europe (especially Britain) and Africa in a network of raw materials, finished goods, and slave labor.
All of the American colonies, later States, were complicit in that trade, either directly, or by benefiting from slave labor in the production of raw materials such as cotton, tobacco, and sugar, among other products. And the fact that New England had abolished slavery in its own territories did not prevent it from profiting mightily from that still going on elsewhere.
On the subject of indenture and slavery, in 1640, a runaway African indentured servant, John Punch, was sentenced to lifelong servitude for the crime of running away. Note: that was a sentence, in punishment for a crime. Arbitrary enslavement did not begin until the case of John Casor (1655), who was ruled by a court to be enslaved for life to Anthony Johnson: ironically, Johnson was an African-born former indentured servant who had completed his term and set himself up as a tobacco farmer, with indentured servants – and now, a slave, the first "official" one – of his own.
Incidentally, only about 10% of enslaved Africans (mostly captured and sold to Europeans, or white Americans, by rival African tribes) ended up in North America, where, as indicated above, they originally became indentured servants, but were later enslaved; the vast majority went to Central or South America (primarily Brazil) or the Caribbean Islands, where they all became slaves (see here for more detailed figures).
Why am I mentioning these things? Because there is a tendency to treat Southern folks, here in the U.S. – those who seceded and formed the Confederacy, from 1861-1865 – as if they were uniquely culpable in the slave trade, and slavery in general. The truth is rather different.
The history of slavery itself is ancient almost beyond reckoning, and worldwide in scope; but the history of slavery in America is also highly complex and multifaceted: including both sub-Saharan Africans selling other Africans into slavery to Europeans (later white Americans), and free blacks here owning slaves, as well as considerable involvement by Northern interests, including after slavery had officially been abolished in New England.
My point in all of this? It just underlines the absurdity of treating the South, and particularly the old Confederacy, as somehow uniquely culpable in the issue and institution of slavery, which it clearly was not; and using this fallacy as an excuse to tear down monuments and other historic iconography. The most recent example of this iconoclastic fervor is the toppling of the "Silent Sam" monument at the University of North Carolina, Chapel Hill – erected as a tribute to the more than 1,000 UNC students who fought, and particularly the 287 who died, in the War Between the States.
But Silent Sam is far from the only casualty in this war against history as expressed in monumental art: many other monuments have been attacked, damaged, defaced by graffiti, or broken down; and some have been removed, under color of law, by municipal authorities who ought to know better. The justification offered is that the South was fighting to protect slavery – a notion that is, at best, simplistic, and at worst, completely and tragically incorrect – an institution for which the Confederacy (so the argument goes) was uniquely culpable. The falsity of that notion is, I hope, amply demonstrated above.
If we are to eliminate every vestige of slavery in America, we will have no choice but to eliminate a lot of good, too. Great men can do terrible things, and flawed men can do great things. The complexity of humans is part of what makes us interesting. But we lose all of that – and impoverish both ourselves, and future generations – when we choose to obsessively mono-focus our attention on a single issue, such as slavery.
Should we ignore it, and pretend that it was of no consequence? No, of course not! It was and is (for it still exists, in parts of Africa and the Middle East, and human trafficking is a thing even here in the U.S.) a moral evil, and must be decried as such.
But judging people, events, and even whole regions solely on the basis of their connection with slavery narrows our focus, blinds our perception, and cripples our judgment. Not for nothing do serious academic historians consider "presentism" – the tendency to look at the past through the lens of current-day standards and sensibilities – to be dangerously misleading.
We would be better off, I think, if more people today heeded an aphorism my late mother often quoted:
"There is so much good in the worst of us, And so much bad in the best of us, That it ill-behooves any of us To talk about the rest of us."
Or as our Lord Jesus Christ once said, "Let him who is without sin, cast the first stone."