Marion Le Pen at CPAC – Controversy and Common Sense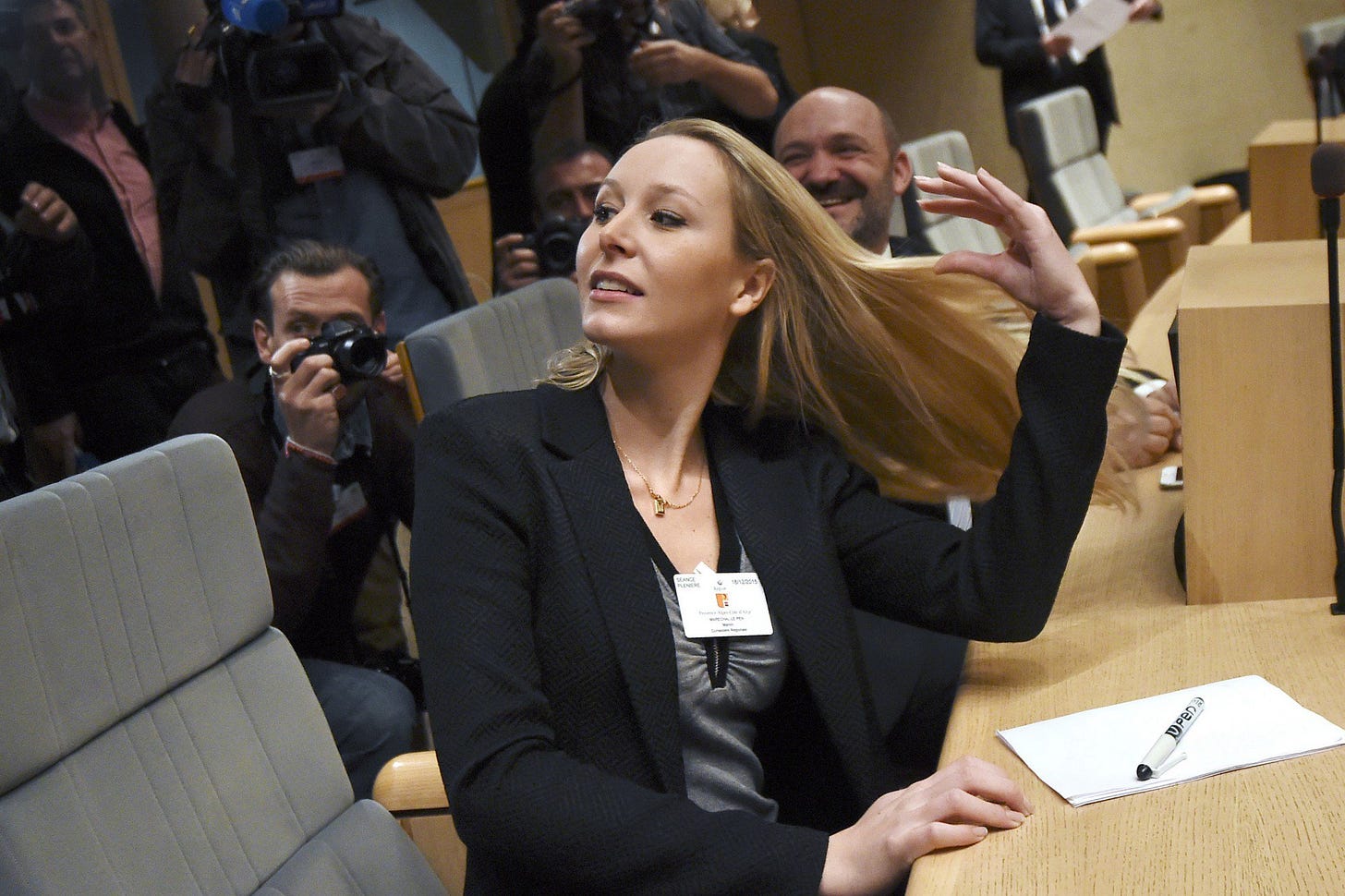 "We do not want this atomized world of individuals without gender, without mother, without father, without nation."
Source: Marion Le Pen at CPAC | Defend Europa
"To open up to the outside, you must have a solid core. To welcome, you have to remain [intact]. To share, you must have something to offer."
Marion Maréchal-Le Pen is a controversial figure, and having her speak at CPAC was a controversial decision, because the party she represents, France's Front National (highlights of whose current program are found here), is controversial: in part because of some unfortunate statements regarding the Holocaust by its founder, Jean-Marie Le Pen (Marion Le Pen's grandfather) – who has since been expelled – and in part because under the currently-dominant metric here in the U.S. (and in much of the West), anyone who is not hard-Left is therefore "far-right."
Be that as it may, Marion Maréchal-Le Pen's remarks should not be controversial to anyone who cares about his or her own country or its people, who is suspicious of the globalist agenda, and who believes that, basically, charity begins at home. Speaking of her home country of France, she asserts,
"France is no longer free today! The French are not free to choose their policies, whether they are economic, monetary, on immigration or even diplomacy. Our freedom is now in the hands of the European Union. This European Union is not Europe. It is an ideology that looks only to the future while being contaminated with historic amnesia. An ideology without land, without people, without roots, without soul, and without civilization. EU is in the process of slowly killing millenary nations."
In other words, as the linked article points out, the EU "is not Europe, it's an authoritarian system that is slowly destroying the nation states and the various European Identities."
The idea of capital-"I" Identities, or as it's sometimes called, "Identitarianism," is another concept that is under fire by the mainstream/Left, but that outrage possesses a level of irony that would be amusing if it were not so maddening: it is perfectly all right to "identify" as a "person of color," as somewhere on the "LGBT-etc." spectrum, even as a "gender" different than the biological sex with which one was born – but as soon as you start identifying as a European (especially if you dare to use the "W" word), you are anathema: racist, fascist, xenophobic, Nazi. As I say, it would be amusing if it were not so aggravating!
Personally, I do identify as European (or, technically, an American of European descent) – and within that, primarily as English, Scots, and German – the same way I do as a man: not as a political statement, but as a simple and incontrovertible fact, an expression of biological (and in the case of my European identity, cultural and historical) reality. It is the actions and reactions of people on the Left that are gradually forcing me to view this identity in more socio-political terms: my heritage, both genetic and cultural, is under attack, and that unfortunate fact forces me to defend it.
This reality does not fill me with glee! Quite the contrary, in fact. I am not any sort of a supremacist, nor am I a colonialist, nor (much as I respect and appreciate, say, the Roman and British Empires) an imperialist. Like a lot of folks, I mainly want to be left alone. But I also want my people to be left alone, and not to be subsumed, oppressed, overrun, interbred, or replaced. So I suppose that makes me an Identitarian... and if so, so be it. I did not choose the label, or the fight; both were forced upon me. But just as in my school days – when I did not start fights, but often finished them – I'm not going to back down, either!
At any rate, that personal statement aside, Marion Maréchal-Le Pen has other good things to say, as the linked article recounts:
Marion also had thoughts about the state of modern society and the importance of things like family and values. She stated: "Without nation and without family, the limit of the common good, natural law and collective morality disappears as the reign of egoism continues."
"Egoism" referring to the current incarnation of the "me generation," in which what "I" want, be it sexual license, freedom from unwanted pregnancies (even if it means killing the unborn), from the commitment to marriage, etc., etc. – the list could go on – is more important than what is good for families, society as a whole, children, and future generations. The article goes on to note,
The current reign of egoism is the manifestation of modernism, a shallow ideology which forces individualism and the atomization of society on the younger generations, the biggest victims of modern society.
Indeed. As I suggested above, these are the sorts of thoughts and positions which should not be controversial in any sane society; the fact that they are indeed controversial in our current society says things that are less-than-flattering about that society! I am reminded of the meme I posted, I think, some while ago: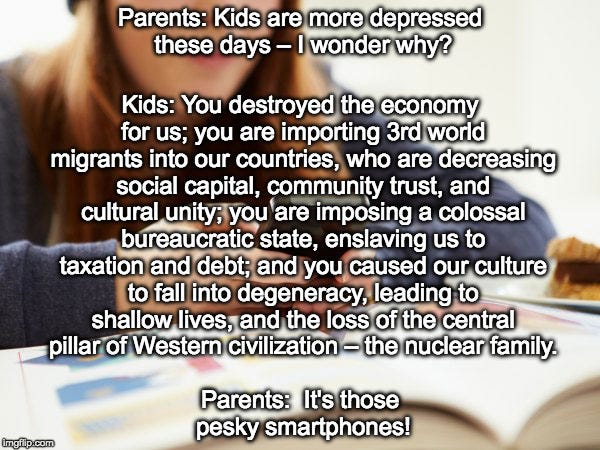 As I have commented previously, smartphones are part of it. But they are more a symptom than the disease: a symptom of an alienated and alienating society, disconnected from its geographical, cultural, and historical roots, as well as from an organic, holistic, integral community of which one can feel truly and fully a part.
In such a context, it is perhaps not surprising that so many people – and not just young people – would retreat into technology, seeking solace in that electronic drug: or perhaps one might say, that false and idolatrous religion, if it is seen as the primary source of meaning and "salvation" in one's life.
But the fact that younger people, such as Marion Maréchal-Le Pen, are beginning to awaken to the sad and degraded state of our present society – and are starting to push back – is very encouraging, to me. God grant the pendulum is beginning to swing in a saner and more wholesome direction!
See also: Marion Marechal-Le Pen's surprising conservative message
Video of her speech at CPAC:
[embed]https://www.youtube.com/watch?v=obHuTlTHMk8[/embed]