Man Snaps Photo Of NYC In 1956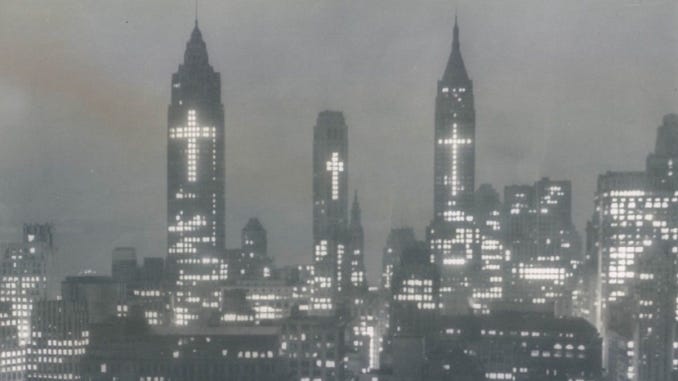 A picture has surfaced of the New York City skyline back in 1956, which shows three buildings decorated with window crosses for Easter. Featured in a newspaper article, [the photograph] shows the buildings lit up with huge crosses.
Source: Man Snaps Photo Of NYC In 1956
The article accompanying the picture (warning: extremely add-heavy and slow-loading page) comments,
"Things were a lot different 60 years ago. For one, public displays of Christianity were something that, regardless of your political affiliation, could be appreciated and admired by all. This is not the case anymore...
"Whoever took this photo probably would never have guessed that over 60 years later, this country would have morphed into a society that would erase any display of Christian faith from the public square under the guise of tolerance, multiculturalism, and secularism.
"Even our holidays, which have been a tradition in this country for generations, are under threat. No longer is it appropriate to say 'Merry Christmas.' We are supposed to say 'Happy Holidays' to be respectful of other spiritual faiths. Of course, this is less about being multicultural and more about being anti-Christian and anti-tradition.
"This picture shows a world that makes progressive-secularists furious. It was a world where free speech actually included freedom for Christians to express their faith, without fear of censorship, mockery, or even lawsuits being leveled against them."
As Archie Bunker would have said, "those were the days!"