Madness in the Med: how charity rescue boats exacerbate the refugee crisis | The Spectator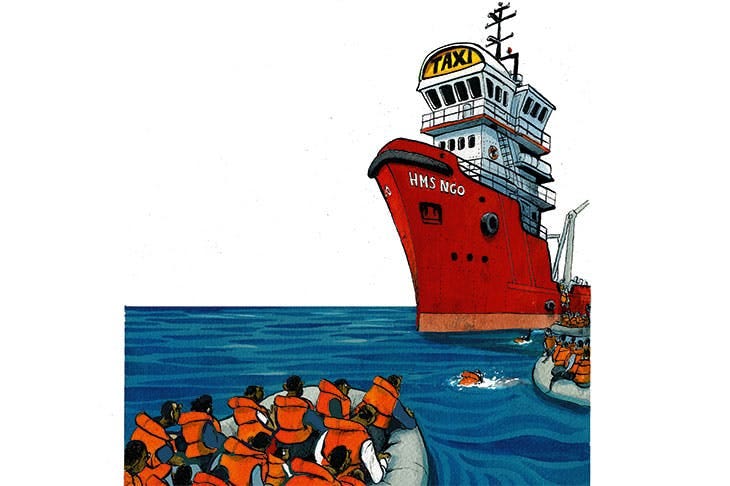 Source: Madness in the Med: how charity rescue boats exacerbate the refugee crisis | The Spectator
While this basically is a fair-minded, balanced, and reasonable article, I have to say that referring to the situation in (and outside) Europe as a "refugee crisis" is dangerously erroneous and misleading. As the article itself points out:
"The debate about migrant crossings tends to be held in the context of people fleeing from wars in Syria and Libya. Yet according to Eurostat, the EU's statistical arm, of the 46,995 migrant arrivals in Italy in the first four months of this year, only 635 were Syrians and 170 were Libyans. By contrast, 10,000 came from Nigeria, 4,135 from Bangladesh, 3,865 from the Gambia, 3,625 from Pakistan and 3,460 from Senegal. None of these countries can be said to be consumed by civil war, and even if some individuals had reason to claim asylum, international law dictates that they should claim it in the first 'safe' country they reach — which in every case would be before crossing the sea to Italy."
The article further points out that there is "obvious and growing evidence that very few of the arriving migrants can honestly be called refugees — unless you widen that definition to include anyone who lives in Africa, on the basis that its standards of living and respect for human rights are universally lower than in western Europe."
So, then, everyone living in Africa has a "right" to emigrate to European or other developed countries? I think not!
This is not a refugee crisis, it is a migration crisis; these are economic refugees, seeking to better their situation in an imagined "El Dorado" (as one commentator has put it) in Europe, where everything from lodging to women is free and easily available. And we have already seen how well these immigrants "blend in" to European culture and society... or not.
To quote the article again, "the vast majority of migrants from Libya are young men" – a fact which is readily apparent from a glance at any of the many pictures which have been taken of them. [Note: Libya is the staging area, most are from sub-Saharan Africa, or from the Indian subcontinent, as the numbers quoted above make clear.] If these are "refugees," where are the women and children? These men are either cowards – if they are indeed fleeing violence, leaving their families behind – or, in most cases, they are not refugees at all. In either case, they should not be allowed in Europe.
In fact, if this is allowed to continue, there will be no Europe! One action that would greatly help to alleviate the situation would be banning the operation of NGO ("charity") boats as ferries to pick up migrants and transport them across the Mediterranean. If that is not possible, under international law, then at least deny them access to European ports. To quote the article again:
"These charities, and others operating ships in the Mediterranean, of course claim to be saving lives. But what they are really doing is colluding — either intentionally or not — in a people-trafficking operation. If charities and NGOs stopped providing a pick-up service a few miles off Libya, and if Italy started returning migrants to the North African countries whence they came, the smugglers' boats would not put to sea."
Indeed. And the sooner this happens, the better.
I have said it before, I will say it again: Europe, wake up!