Low unemployment isn't worth much if the jobs barely pay | The Brookings Institution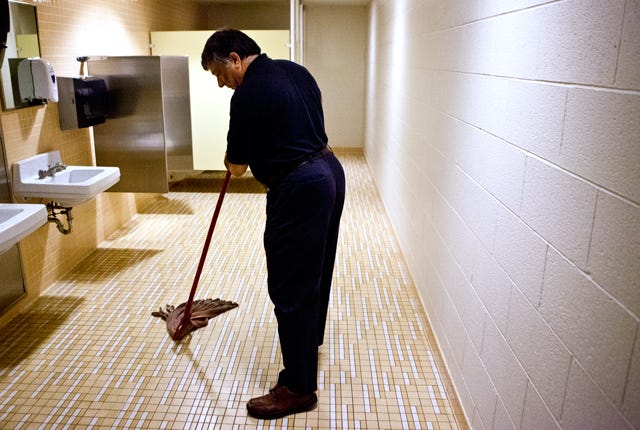 Source: Low unemployment isn't worth much if the jobs barely pay
I am still struggling, myself, to be honest; but back when I was really struggling, I used to (try to) make this point on a number of occasions, when well-meaning friends and relatives tried to tell me that "any job is better than no job."
Well, no, it isn't. If it doesn't make ends meet, it may be worse than no job at all, b/c it may make you ineligible for public assistance... and you still can't live on it.
People who have never been abjectly poor have no idea how horrible a position that is to be in, and it is often in many ways the "working poor" who have the worst of it, because they are overlooked by most assistance programs: "oh, they don't need help, they have a job." Not necessarily true!
This is also why I am not in complete agreement with Mike Rowe, although I respect what he's trying to do. It is also why I am distrustful of many conservatives' faith in "the market" to do the right thing: "the market" is made up of fallible, mortal – and often greedy and selfish – human beings, and these do not always do the right thing.
Yes, there are a good number of jobs out there, looking for workers. That is true. But many (most?) of them do not pay a living wage. In which case, what I wrote above kicks in...
[Note: Although many people do it, taking a second job – and sometimes a third – is not really a viable solution long-term, either. I am leaving aside short-term stints, to get extra money for holiday shopping, a vacation, or maybe to fund an unusual purchase; I am also leaving aside "hustling" to turn one's sideline into one's career.
I'm talking about working two or more jobs, consistently, to make ends meet. The more hours you're working, the fewer you have to a) look for a better job, b) perform ordinary but necessary maintenance / domestic tasks, and c) get the rest and sleep you need in order to perform any job(s) at a high level of efficiency.]
As the linked article points out, two-thirds (64%) of low-wage workers are in their prime working years of 25 to 54; more than half (57%) work full-time year-round, the customary schedule for employment intended to provide financial security; and about half (51%) are primary earners or contribute substantially to family living expenses (FWIW, I am currently in all three of these categories).
We have a problem, here, as a society; and we need to work together, as a society, to find reasonable, workable, and effective solutions. The problem is, we're largely talking past each other.
The Left wants to raise the minimum wage to $15/hour, which has the effect of increasing automation, and forcing smaller businesses to lay off workers or even close. The neoliberal/libertarian Right says "just get a job" – which as both the article and my comments point out, isn't necessarily, by itself, a viable solution to poverty.
I'm not sure what the solution is; if I knew, I'd be making tons of money, myself, from appearing on early-morning talk-shows and giving presentations to well-known think-tanks! But I do know we need to find one. If we don't, the future looks dire, for a lot of people: and therefore, for society as a whole. This is important!
---
N.B. Perhaps this Chesterton quote, and the concept it embodies, may have relevance for us as we struggle toward a solution...