Judge Brett Kavanaugh, gender, and justice
A female friend of mine – and one who has posted some things pretty critical of Judge Kavanaugh in the past – posted this on her Facebook timeline today:
"Here is my story, and here is my opinion.
"In this day where media makes sure everyone's business is publicly aired, where police forces use lethal force in uncalled-for situations, we have lost sight of 'innocent until proven guilty.'
"Then we have situations where men I revered in my youth have been revealed to be less-than-perfect (Paterno, who I feel must've known something despite having the best interest of most players at heart, and 'America's dad' Bill Cosby), and it breaks my heart to admit that no one is wholly evil or wholly saintly.
"But we have been on a bit of a 'witch hunt,' haven't we?
"I mean, if a young lady is going to a man's hotel room, there is some understanding of what could happen, even if she says no. (I am thinking back to the show-business 'auditions' that led to many accusations a couple of years ago.) In the case of Cosby, indeed, she did not consent to having her drink drugged, although during the '70s quaaludes were quite the norm. All incidents must be viewed in the historical context of the times in which they occurred.
"Women should be believed.
"Shame on any woman who is less than honest when revealing her story. False accusers should be prosecuted, and they open themselves to financial loss due to slander.
"When I was a freshman in high school I put myself in a compromised situation. I entered into it willingly, and it got out of hand. I did not know to stop the situation until it had progressed too far.
"Did he know he had pushed beyond my comfortable limit? No. Should he have been prosecuted? Surely not.
"Four years later, as a freshman in college, I received counseling. I had never felt myself a victim before then, and I surely could have bought into the victim persona ... but I chose to recognize that my identification and labeling of the situation as an 'assault' afforded me the ability to address the negative emotions around the event, get the counseling I needed, and acknowledge that he had no intention of violating me. I forgave.
"Nearly every woman I know has been touched in a way that was an 'assault,' and they should get counseling as needed. Many of the men who have committed these assaults sincerely did not know they were violating the women. We must consider the context of the situation.
"If you have been assaulted, in any way ... if you feel bad about a situation, even if you put yourself in it ... get the counseling you need. And I encourage you to forgive, for carrying the anger will ultimately do you more harm than it ever will the person who assaulted you.
"I am here for you if I can help.
"And men, if you think, in light of the 'redefinition' of assault, that you may have violated a woman, consider reaching out to apologize. I am pretty sure she hasn't 'forgotten.'
"We are all in this together."
Amen.
The only thing I would add is this:
If we get to the point – and we are heading there at warp speed – where an as-yet-unsubstantiated allegation (I am not ruling out the possibility that it may be substantiated, at some point in the future, but that has not happened yet) can not only potentially derail a nomination, but ruin a person's personal and professional reputation and put his family through the ringer, we as a society are heading for a very bad place.
Yes, we must believe women. We must believe them no less, but also no more, than we would believe a man.
As Alan Dershowtiz – certainly no member of the alt-right! – has put it, "neither men nor women were born with a gene to lie or tell the truth." Men and women alike lie; men and women alike misunderstand one other's intentions; men and women alike misremember facts and events.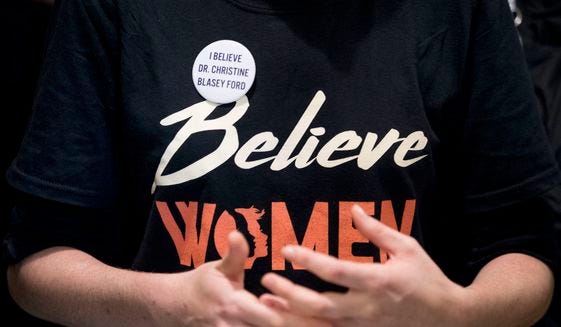 Believe women? Yes, but: the idea that we should believe Christine Blasey Ford simply because she's a woman is as absurd as it would be to suggest that we should believe Brett Kavanaugh simply because he's a man.
One of the most basic and foundational principles of American jurisprudence is that a person is innocent until proven guilty. Not until accused: until proven guilty. The burden of proof, rightly, rests on the accuser, to prove guilt; not on the accused, to prove innocence. But there are many striving, in the context of the Kavanaugh hearings, to turn this principle on its head.
If this becomes the "new normal" – if an accusation becomes seen as tantamount to proof – we are all at risk. And if not us, then our fathers, sons, husbands, nephews, friends: pick your relationship. As I say, we are well along that road already. Do we really want to go down it any further?
---
Actually, there is one more thing I want to say. As my friend noted, "it breaks my heart to admit that no one is wholly evil or wholly saintly." Mine, too. But that is, sadly, the human condition.
As my dear late mother used to say, "There's so much good in the worst of us, and so much bad in the best of us, that it ill-behooves any of us to talk about the rest of us." This does not mean that there should not be consequences for one's actions, if indeed they are proven to have occurred. It does mean that, as the Christian faith has always understood, "there is none who is without sin; no, not one." And that is not going to change, short of the Second Coming.
Again, that is not an excuse! It is, rather, an honest and open-eyed statement of fact. We are prone to say, in the aftermath of something we don't like, "Shouldn't people do (or not do) this...?" or "Shouldn't there be (or not be) that...?" Yes, in a perfect world, they probably should, and there probably should be. But we are not perfect people, and we don't live in a perfect world. In fact, we are so imperfect that we can't even agree on what a perfect world would look like!
That doesn't mean we shouldn't try to improve ourselves to the greatest extent possible. We should! (In fact, improving ourselves is probably the biggest single step any of us can take toward improving the world.) It does mean we should be cautious and realistic about the chances of improving everyone else... and cautious, also, about attempts to impose such improvement on others, according to our own vision of perfection.
Efforts to bring about the Kingdom of Heaven, or a secular version of it, by our own efforts typically – historically – end badly, from the English Civil War to the French Revolution, from Stalin's Russia to Hitler's Germany, from Chairman Mao to Pol Pot, and beyond.
I say again: is this a road down which we want to go?