Jefferson vs Hamilton, and why I am a Jeffersonian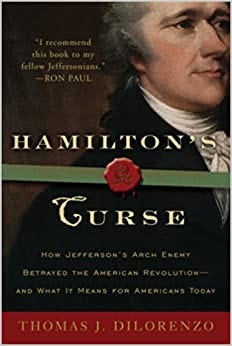 Source: Hamilton's Curse: How Jefferson's Arch Enemy Betrayed the American Revolution--and What It Means for Americans Today | Amazon.com
Reasons for my preference for Jefferson over Hamilton, aside from the former's primary authorship of the Declaration of Independence, and his agrarian ideal:
"While Jefferson is better remembered today, it is actually Hamilton's political legacy that has triumphed – a legacy that has subverted the Constitution and transformed the federal government into the very leviathan state that our forefathers fought against in the American Revolution. How did we go from the Jeffersonian ideal of limited government to the bloated imperialist system of Hamilton's design?
"Acclaimed economic historian Thomas J. DiLorenzo reveals how Hamilton, first as a delegate to the Constitutional Convention and later as the nation's first and most influential treasury secretary, masterfully promoted an agenda of nationalist glory and interventionist economics. These core beliefs did not die with Hamilton in his fatal duel with Aaron Burr, but were carried on through his political heirs.
"The Hamiltonian legacy wrested control into the hands of the federal government by inventing the myth of the Constitution's "implied powers," transforming state governments from Jeffersonian bulwarks of liberty to beggars for federal crumbs. It also devised a national banking system that imposes boom-and-bust cycles on the American economy; saddled Americans with a massive national debt and oppressive taxation, and pushed economic policies that lined the pockets of the wealthy and created a government system built on graft, spoils, and patronage."
Other than that, not a bad system... *ironic smile*