Investigators search for person who sent mail bombs, motive | Associated Press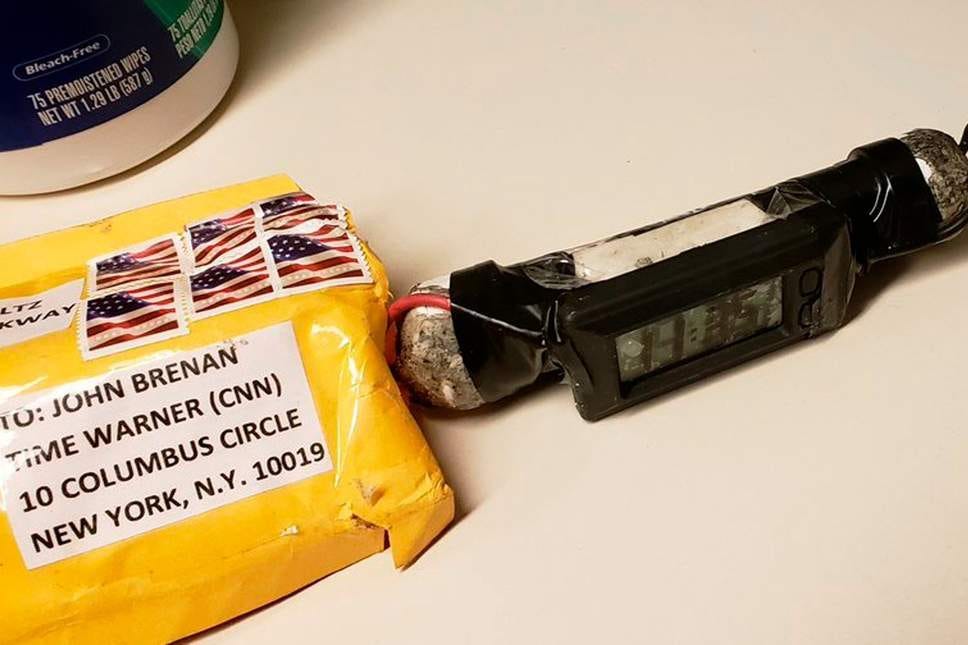 Investigators have been searching coast to coast for the culprit and motives behind the bizarre mail bomb plot aimed at critics of the president
Source: Investigators search for person who sent mail bombs, motive
First, before I say anything else, let me be clear about one thing: politically-motivated terror is never acceptable, under any circumstances, and that is exactly what this is regardless of who is responsible or the motives behind it. I condemn in the strongest possible terms any use of terrorism to advance a political agenda.
I particularly abhor the fact that this is happening here, in the United States, where we supposedly have representative, Constitutional government, and the rule of law, and where there is a defined and clearly functional (despite the fact that some people will, inevitably, not like the results) system to bringing about political change in an orderly, rational, and legal way. That system must be defending against lunatics and zealots, alike.
That critical point having been made clear, let's talk about the current situation. AP writes,
"New details about the devices came as the four-day mail bomb scare spread nationwide, drawing investigators from dozens of federal, state and local agencies in the effort to identify one or more perpetrators... targets have included former President Barack Obama, Hillary Clinton, CNN, [former Obama Attorney General Eric Holder, billionaire "progressive" financier George Soros], and Rep. Maxine Waters of California. The common thread among them was obvious: critical words for Donald Trump and frequent, harsher criticism in return...
"Investigators have been searching coast to coast for the culprit and motives behind the bizarre mail bomb plot aimed at critics of the president, analyzing the innards of the crude devices to reveal whether they were intended to detonate or simply sow fear two weeks before Election Day. Three more devices were linked to the plot Thursday — two addressed to former Vice President Joe Biden and one to actor Robert De Niro — bringing the total to 10 in an outbreak of politically loaded menace with little if any precedent. Authorities warned there might well be more."
So, what's going on with these "bombs," anyway...? That's the $64,000 question, isn't it? And it's not one that's easy to answer; it's not one that I claim to be able to answer, at least not definitively. If I could, I'd be making the rounds of talk-shows, and raking in the bucks! But I do have some preliminary thoughts.
First, the reason I put "bombs" in quotes: despite the fact that they have been described and, quite properly, treated as pipe bombs, the truth is that there has always been doubt as to whether they could, in fact, ever have detonated, or whether they were built to do so in the first place. According to Associated Press, the devices
"were packed in envelopes with bubble-wrap interiors bearing six American flag stamps and the return address of Florida Rep. Debbie Wasserman Schultz, the former chairwoman of the Democratic National Committee," and "were about 6 inches (15 centimeters) long and packed with powder and broken glass, according to a law enforcement official who viewed X-ray images. The official said the devices were made from PVC pipe and covered with black tape."
However,
"Law enforcement officials told The Associated Press that the devices, containing timers and batteries, were not rigged like booby-trapped package bombs that would explode upon opening. But they were uncertain whether the devices were poorly designed or never intended to cause physical harm."
Nonetheless, whether they were actual bombs or lookalike devices intended to sow fear and distrust, the effect is the same: the use of terror to affect political outcomes. And that, as I say, is despicable and unacceptable.
The question then becomes, who is responsible? Because of the list of targets – all Left-wing political opponents of the current President and his administration – suspicion has fallen – understandably – upon possible right-wing extremists (one set of candidates for the aforementioned "lunatics and zealots"). In the words of Captain Louis Renault of the 1942 Humphrey Bogart film Casablanca, "round up the usual suspects"!
But unless the perpetrator is, in fact, certifiably insane, one has to ask oneself, what possible good would this have done to someone on that end of the socio-political spectrum?
The timing is, to say the least, suspicious: a few weeks from a very important and hotly-contested midterm election; a few days after news reports surfaced that the supposed "blue wave" of Democrats bent on retaking the House and Senate was beginning to dissipate; and with an illegal-immigrant "caravan" of several thousand Central Americans making its way towards the southern border of the U.S., inevitably (and rightfully) making people nervous, and perhaps inclining more of them to come out and vote – and vote for GOP candidates, at that – than might otherwise be the case.
The perpetrator would have to know that something like this, blamed on the right, could not help but give the Democrats at least some measure of "sympathy vote," come November 6th. In other words, it would be counter-productive, if the goal is to help prevent the Dems from retaking Congress.
On the other hand, it is precisely the above factors that might make such an effort attractive on the part of radical extremists on the left (the other set of contenders for the "zealots and lunatics" label): such an act, blamed successfully on the right, might well suppress the conservative vote, and energize the left-wing base. "Blue Wave 2.0"!
That scenario – that the sender was actually a leftist – would be even more likely if it turns out that the devices in question were not, in fact, capable of detonation. What could be better, from the perspective of the Left, than to send its own people devices that make them look like they're being attacked by the Right, but which are in fact not able to harm them?
Granted, we do not know, yet, whether or not that is the case. But AP isn't alone in questioning whether the devices were functional: at least one former bomb disposal officer, Tom Bauer, questioned their authenticity, noting, inter alia, that "Hoax Devices are FAR more common than real ones. In which case, we should ask ourselves what the motives of the 'bomber' are and 'who benefits?'" and asking people to "Go ahead. Think deeply and critically" about the situation.
The New York Times – far from a right-wing news source – even pointed out that
"None of the devices harmed anyone, and it was not immediately clear whether any of them could have. One law enforcement official said investigators were examining the possibility that they were hoax devices that were constructed to look like bombs but would not have exploded…
"Some bomb technicians who studied photos of the device that circulated on social media suggested that the bomb sent to CNN had hallmarks of fake explosives — the kind more typically depicted on television and in movies [such as an obvious digital timer, affixed to the outside of the object], rather than devices capable of detonating."
National Review notes,
"The pipe bomb and white powder that forced an evacuation at CNN headquarters in New York City Wednesday morning were harmless, a law enforcement source told the Associated Press... The NYPD said the explosive devices were live during a Wednesday afternoon press conference but subsequent reporting suggests they were not functional."
Though an NBC report said that "The powder contained in the bombs comes from pyrotechnics," that – even if corroborated – does not necessarily mean that the devices were capable of exploding, or even intended to explode. That same NBC report notes that "It also remains unclear if their builder intended for them to actually explode or were part of some politically motivated hoax."
The fact that out of ten devices, not even one went off, tends to lend support to the non-functional nature of them (either by ineptitude or intention), unless we get an official report stating differently.
Perhaps one Twitter commenter said it best: "So, their primary purpose was not to kill? That leaves a long list of other purposes – scare, provoke, publicize, mislead, distract."
You can accuse me of being a conspiracy theorist, or ask me where I left my tin-foil hat, if you want to; but this does look and feel more than a little like a "false flag" operation, or an attempt at one. It will be interesting to see what the Federal and local law-enforcement authorities currently investigating the situation find out.