"I didn't fight against French Algeria to accept an Algerian France": Bardot slams modern-day France | RT World News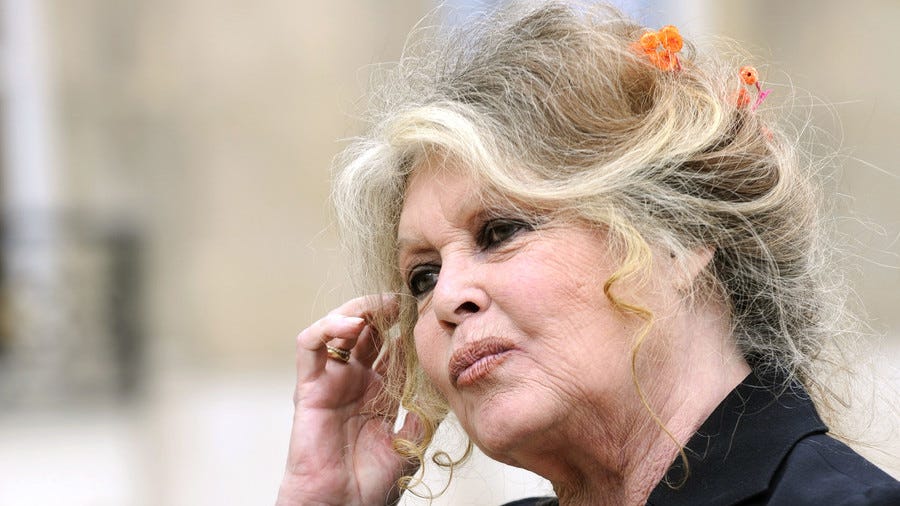 "I did not fight against French Algeria to accept an Algerian France. I do not touch the culture, the identity and the customs of others; let's not touch mine." – Brigitte Bardot
Source: 'I didn't fight against French Algeria to accept an Algerian France': Bardot slams modern-day France — RT World News
Brigitte Bardot – a noted actress and famous beauty who starred in 47 films (most of them in the 1950s and 60s) – was an outspoken critic of the French colonial presence in Algiers, which gained its independence from France after a vicious 8-year war (1954-1962). But, as she pointed out in an interview with the French weekly Valeurs Actuelles,
France is not what it once was. "I have been brought up in honor, patriotism, love and respect for my country, and when I see what it has become, I feel desperate," she said.
The 83-year-old also said that it is "unacceptable" to see burqas become commonplace in France, and Islamists are "practically everywhere."
This article also notes that
The former actress didn't mince her words when it came to her thoughts on the European Union either. "We have to get out of it," she said. Bardot added that she is a supporter of right-wing National Front politician Marine Le Pen, who has also spoken out against France's membership in the EU.
With so many Left-wing actors and other entertainers espousing cultural Marxism on this side of the Atlantic (and probably in Europe, too), it's actually rather refreshing to hear such an icon of the silver screen speaking out in favor of protecting the culture, history, and heritage of her home country!