Gunpowder treason and plot: raging against the mellow light | Laudable Practice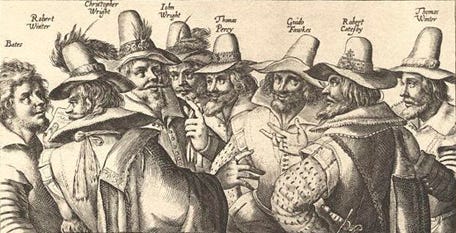 "And why? their communing is not for peace : but they imagine deceitful words against them that are quiet in the land" – Ps.35:20.
Source: Gunpowder treason and plot: raging against the mellow light
Remember, remember! The fifth of November, The Gunpowder treason and plot; I know of no reason Why Gunpowder treason Should ever be forgot!
But what is the significance of this day? As "Historic UK" puts it, "A group of Roman Catholic nobles and gentlemen led by Robert Catesby conspired to essentially end Protestant rule with perhaps the biggest 'bang' in history. Their plan was to blow up the King, Queen, church leaders, assorted nobles and both Houses of Parliament with 36 barrels of gunpowder strategically placed in the cellars beneath the Palace of Westminster."
One of the conspirators, Guy ("Guido") Fawkes, "was arrested in the early hours of the morning of November 5th 1605, in a cellar under the House of Lords, next to the 36 kegs of gunpowder, with a box of matches in his pocket and a guilty expression on his face!" Ever since, "the burning of the Guy" – an effigy of Fawkes (even though the conspirators were actually hanged, drawn, and quartered) – and celebratory fireworks have been a feature of the day in Merrie Olde England!
But the significance goes deeper:
"'Mellow light.' It is the phrase Eamon Duffy uses to describes 'the church of George Herbert.' Herbert was ordained in 1629, early in the reign of Charles I. He was, in other words, ordained into a Church profoundly shaped by James VI/I, in which the influence of Jacobean Anglicanism was pronounced. The 'mellow light,' then, of Herbert's Church was Jacobean light.
'It was in the Jacobean Church that, in the words of Diarmaid MacCulloch, 'the obscure and slightly controversial figure of Hooker was being transformed into an iconic ... authority.' It was in the Jacobean Church that the sermons of Lancelot Andrewes were heard. And so, as T.S. Eliot put it:
"'The intellectual achievement and the prose style of Hooker and Andrewes came to complete the structure of the English Church ... the achievement of Hooker and Andrewes was to make the English Church more worthy of intellectual assent.'
"The Jacobean Church was also the arena for the sermons of John Donne, demonstrating a native piety at once rational and deeply heart-felt, learned and popular, catholic and reformed, by which - as Donne stated in one of his sermons - 'papistry was driven out, and puritanism kept out'...
"It was this 'mellow light' which the Gunpowder conspirators sought to extinguish."
God be thanked, they were not successful!