French far-right overtakes Macron in EU parliament election poll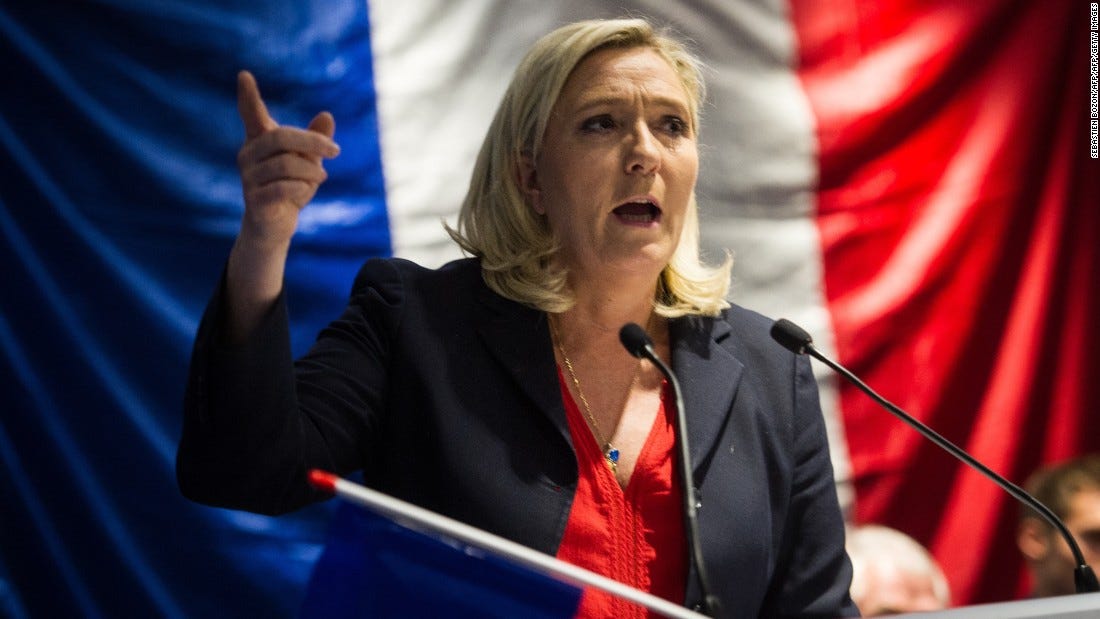 Source: French far-right overtakes Macron in EU parliament election poll
Finally, some good news out of France!
"Marine Le Pen's National Rally has overtaken the centrist party of Emmanuel Macron, the French president, for the first time, according to an opinion poll released Sunday, in a further sign of the rise of the far-Right in Europe. The Ifop poll measured voting intentions for European Parliament elections next May, seen as a decisive battle between pro-EU liberals and Eurosceptic populists that could be pivotal in shaping the future of the European Union after Brexit."
Remember, of course, that to the "mainstream" (Left-wing) media, anyone who is not hard-Left is "far right," and love for one's own people and nation is tantamount to Nazism...
Granted, the lead is not dramatic; but it is significant:
"The poll showed Ms Le Pen's party, formerly known as the Front National, with 21 per cent of voting intentions compared to 19 per cent for Mr Macron's La Republique En Marche (LREM) party.
"Together with the seven per cent of people planning to vote for a smaller far-Right party, Stand Up France, and two per cent going for two small "Frexit" parties, the French far-Right has won 30 per cent of voting intentions, a five-point gain since August, according to the poll...
"Populist parties' gains have increased fears in Brussels that anti-immigrant Eurosceptic parties may wield greater clout after the May elections."
We can only hope.