Feminists are set on making us all victims | Comment | The Times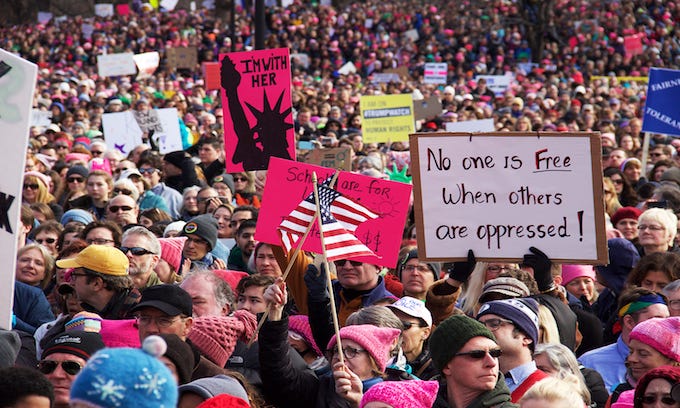 MeToo protests on behalf of free and privileged women, ignoring those who are truly powerless.
Source: Feminists are set on making us all victims | Comment | The Times
It is refreshing and, to be honest, more than a little bit of a relief, to see a woman in the position of a relatively mainstream commentator like Melanie Phillips making the points she makes in this essay. It is not necessary to – as indeed, she does not – deny the fact that some men, sometimes, have behaved abhorrently and even criminally badly, to perceive that some of the allegations and assertions being made by the feminist Left are not only overstated, but in many cases cruelly wrong. Such vitriol does no good to either men or women, nor to society as a whole.
"Sophie Walker actually claimed that we were living in a patriarchy. [Yet] Britain has a woman prime minister, a woman home secretary, a woman director of public prosecutions, a woman head of the Supreme Court, a woman running the Metropolitan Police. Political parties have all-women shortlists. Education has been feminised through collaborative coursework and the denigration of competition.
"For many women, men have been reduced to little more than sperm donors and walking wallets. They have been told that all the characteristics or roles they value so highly such as valour, leadership or breadwinning are dangerous, pathetic or demeaning.
"All this is apparently irrelevant. Declared Baroness Kennedy of The Shaws, QC — a member of the UK legislature, principal of Mansfield College, Oxford and former chairwoman of the Genetics Commission, the Power Commission and the British Council: 'Power is coded male.' Should one laugh or cry?"
Meanwhile, as "the great protest against their own alleged victimisation and oppression is being mounted by women in the West, the most free, most independent, most educated and most wealthy women in the world today and in the history of the human race," Ms Phillips points out,
"There are indeed women who really are powerless and institutionally victimised by men. Yet no MeToo movement has sprung up to protest against their oppression. What is the feminist reaction to women victimised by Sharia, subjected to female genital mutilation or "honour" killings or stoned to death for adultery? Silence. What is the feminist reaction to the Iranian women ripping off their headscarves and putting their lives on the line to get rid of the clerical regime that tyrannises them? Silence. What is the feminist reaction to the poor white girls of Telford or Rotherham who have been pimped, raped and enslaved by mostly Pakistani-heritage Muslim gangs? Silence."
It is, quite frankly, an outrage.