Feast of St. Nicholas – December 6th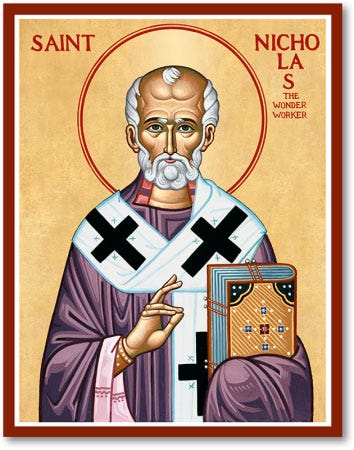 A contemporary icon, in traditional style, of St. Nicholas, whose feast-day is the 6th of December. This is not the "jolly old St. Nick" of the secular mythos, mind you, but the passionately-dedicated orthodox Christian bishop of Myra, who reportedly got into a physical altercation with the presbyter Arius, who taught that Jesus Christ was not of the same substance as God the Father, but rather the first of all created beings, during the Council of Nicaea. However, it is he who evolved, in the public imagination, and by many steps and stages, into the "St. Nicholas" we all – even the most secular – know and, usually, love.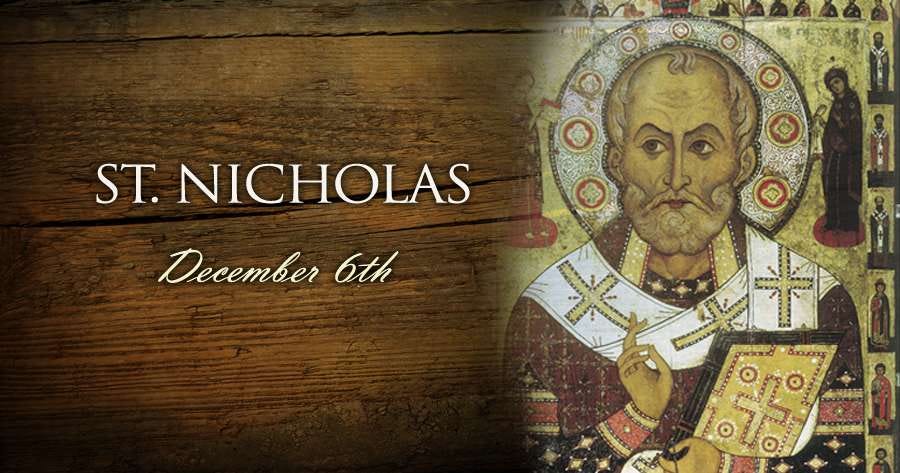 Today marks one of the steps in that evolution, for in Holland, traditionally, on the eve of St. Nicholas' DAy, the children would put their wooden shoes outside the door of their room, in hopes of finding them filled with fruit, candy, and coins (today usually foil-covered chocolates), on the morning of December 6th. Why? Well, St. Nicholas quickly became known as the patron saint of children, after a legend in which he saved three daughters of a poor man from slavery (or worse – forced prostitution) by tossing a small bag of gold into their house each of three successive nights (in Europe "down the chimney," but in Myra in Anatolia – now Turkey – it is more likely to have been through a roof-top entrance), to serve as their dowries.
From that it is not far to the image of a saint (or in later, secular interpretation, a sort of magical being who embodies "the spirit of Christmas") who comes down the chimney with toys for good little boys and girls! He also became known as the patron saint of Holland, probably as an extension of his older status as patron saint of sailors: Holland was for a long time quite a sea-power. The Dutch – who settled part of the Eastern seaboard of what is now the U.S. – called him "Sinter Klaas." And it is from that name that we now know him as "Santa Claus." An interesting historic and linguistic transformation!