Evola: "Capitalism just as subversive as Marxism..."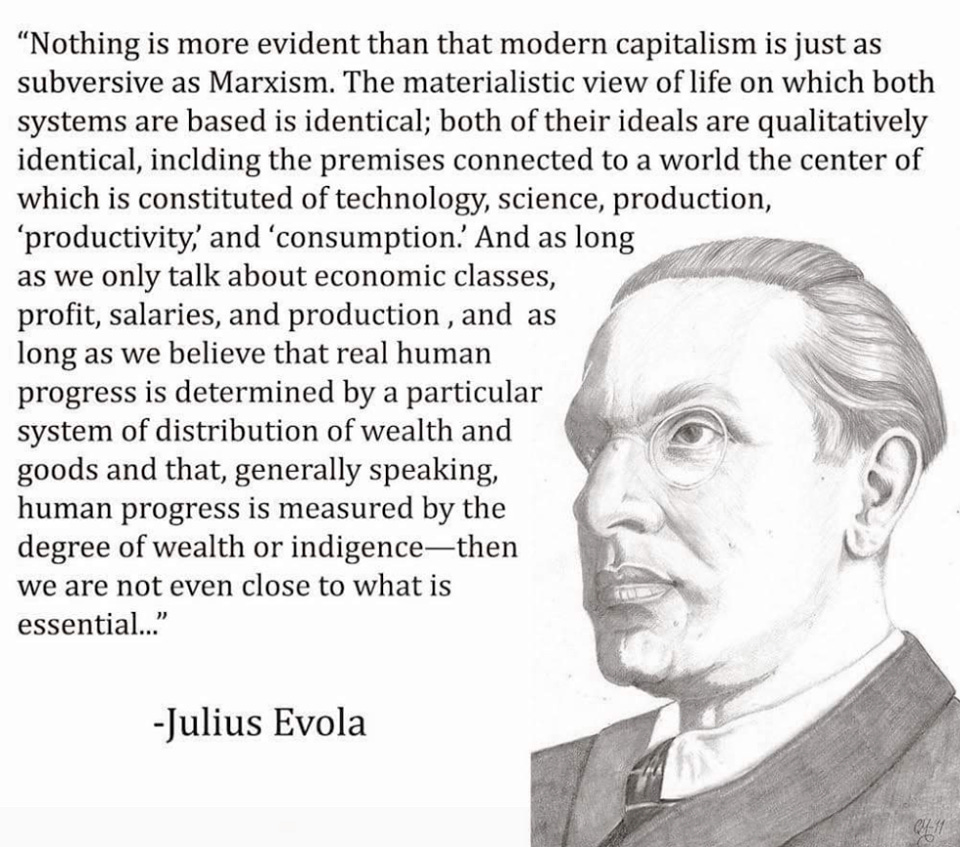 I have not read much Evola – just a few quotes here and there – but I agree with this. Economics, while important for survival (the word means, literally, "household management" – Greek oikos + nomos), is a means to an end: one which is too-often treated as if it were an end in itself.
The high and ultimate things – religion, e.g., the proper relationship between God and Man, and philosophy, including ethics and morality, e.g., the quest for a right relationship between and among humans, as well as something like Aldo Leopold's "land ethic" – must come first, and serve as the basis for the practical, instrumental considerations which follow, including economics.
By placing economics at the forefront and letting our values flow from there, I believe, we as a society are currently putting the cart before the horse!
You will note that these "high and ultimate things" are closely interrelated, not separate and distinct: I have spoken and written elsewhere about the importance of re-weaving the connections between and among God, Nature, and Humankind – that is to say, adopting a truly holistic view of the world (cosmos) and our place within it.
Economics has a role in this process, and it is an essential one. But it is or should be a supporting role, not a lead role. An analogy might be architecture, in which support structures such as pillars, arches, etc., are absolutely essential to the construction and support of a building – and which ones are chosen is far from irrelevant! – but they are not the purpose of the building.
This is where we have gone wrong in our treatment of economics, in my opinion, whether capitalist or Marxist in orientation. And this is, I think, the point of the Evola quote, above.