European elections results: Far-right and pro-Green parties win votes | Metro News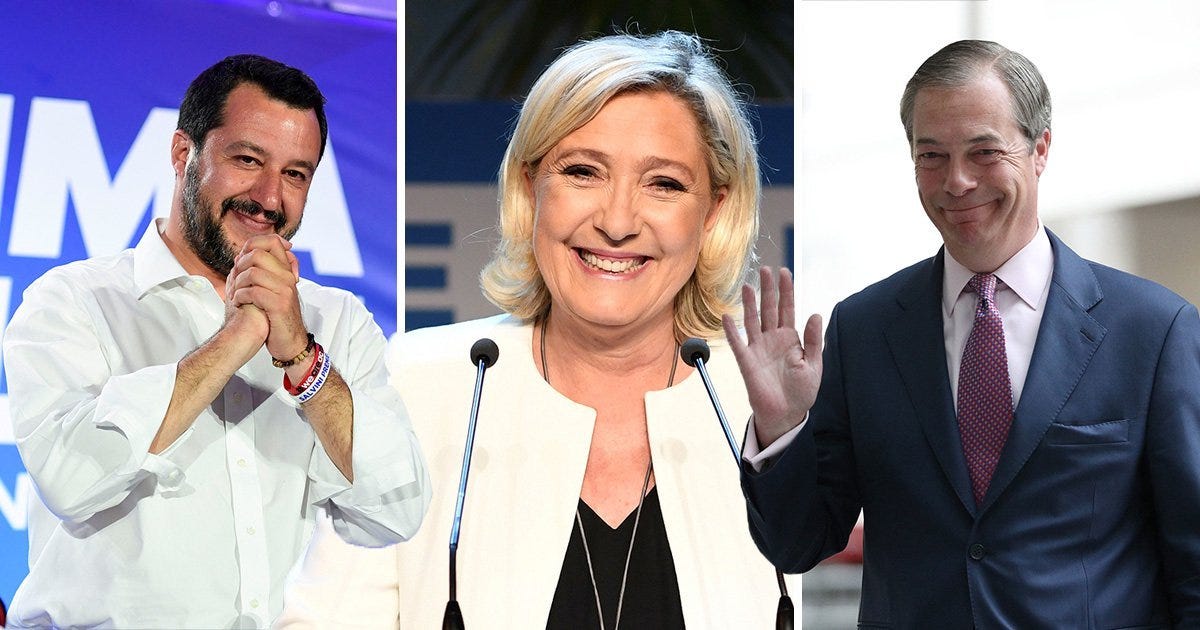 Europe saw a coming-of-age moment for the eurosceptic far-right movement in the European elections results 2019.
Source: European elections results: Far-right and pro-Green parties win votes | Metro News
Four days of voting for national representatives to the European Parliament ended Sunday with major gains by nationalist / populist parties ("far right" = eurosceptic, opposed to globalism, mass migration, and other aspects of the Left-wing agenda).
Italian Deputy Prime Minister, Interior Minister, and de facto popular leader Matteo Salvini "told RAI state television that his League [Lega, formerly Lega Nord, the Northern League], Marine Le Pen's National Rally and Nigel Farage's Brexit Party together should control 90 seats and that other populist parties could bring the number to at least 150."
Meanwhile, in Britain, former UKIP leader Nigel Farage's weeks-old Brexit party won 28 seats, against 16 for the Liberal Democrats. Traditional powerhouse Labour took only 10, and the once-mighty Conservative Party, known as the Tories, four. Even the Greens beat the Tories, with seven!
Although the linked article notes that "Despite making gains, the vote was hardly the watershed anticipated by Europe's far-right populists" [see above...] "who have vowed to dilute the European Union from within in favour of national sovereignty," it was a very definite wake-up call – indeed, a hard slap in the face – to traditional "centrist" parties.
An interesting point is that the other major gainers were Leftist parties, including the Greens; clearly, much of Europe's population is tired of "business as usual." With the sloppy center on record as refusing to make alliance with the nationalist / populists, it will be fascinating – to say the least – to see where European politics goes from here!