End of the EU? Wave of populism takes over bloc despite Merkel's Brexit relief | World | News | Express.co.uk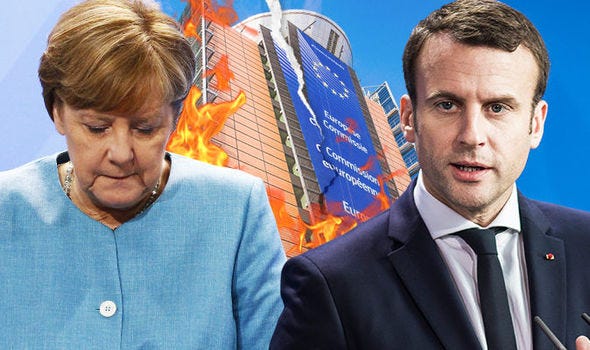 European Union bosses breathed a sigh of relief when Marine Le Pen was defeated by Emmanuel Macron in France – but new studies have revealed the spread of populism is FAR from over.
Source: End of the EU? Wave of opulism takes over bloc despite Merkel's Brexit relief | World | News | Express.co.uk
Angela Merkel revealed just last month she was rocked by Brexit, and feared for the future of the EU, but the result of the French presidential election gave her new hope.
However, that hope may be dashed after the findings of Epicenter (the European Policy Information Centre).
Populism is being described as the 'third force' in Europe - with right-wing parties gaining renewed support across the bloc.
The Epicenter report revealed the total number of European voters who bucked the Brussels rhetoric and chose an anti-system force at the last political elections was 21.4 percent.
This means 55.8 million people preferred an alternative to traditional political forces - or those preferred by the EU.
Read on for more. More and more people in Europe appear to be waking up to the existential threat posed to European countries' history, heritage, culture, and way of life by the "soft" invasion unleashed by Merkel and her fellow-travelers (helped along, sadly, by American stupidity in taking down governments – such as Libya, and we're working on Syria, too – that helped to hold back the tide). But will it be enough, and will it be soon enough, to prevent irreparable harm? That is the question...