Commemoration of William Laud, Archbishop of Canterbury, and Martyr, 1645 | For All the Saints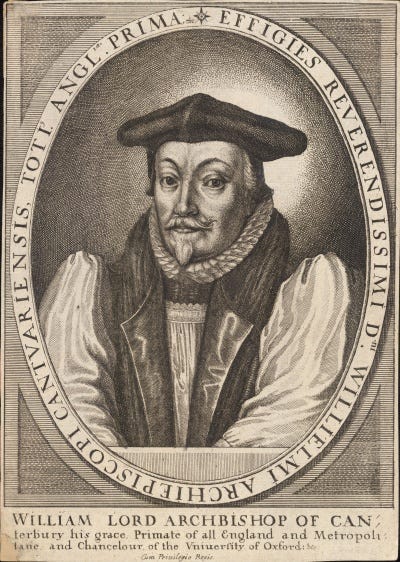 Source: William Laud, Archbishop of Canterbury, 1645 | For All the Saints
Today marks the martyrdom – and thus, by ancient Christian tradition, the "heavenly birthday" – of William Laud, Archbishop of Canterbury (1633 - 1645). While frequently criticized, and not without justification, for his willingness to aggressively pursue and harshly punish "Dissenters," it is worth noting that his motive was to protect the Anglican expression of Christianity from a school of thought – Puritanism – that was both militantly opposed to that Anglican expression, and furthermore rapidly gaining the ascendancy.
That they would be just as willing to use vicious means against their own opponents (including not only the Laudian party, but Anglicans in general) when they attained power was demonstrated all too clearly during the Interregnum (Long Parliament and Protectorate) following the execution of King Charles I, called by some King Charles the Martyr. Does that justify the Courts of High Commission and Star Chamber? I leave that to my readers to decide. I will only quote from the above-linked essay:
"Honored as a martyr and condemned as an intolerant bigot, he was compassionate in his defense of the rights of the common people against the landowners. He was honest, devout, loyal to the king and to the rights and privileges of the Church of England. He tried to reform and protect the Church in accordance with his convictions – though these attempts at reform were marred by his treatment of those who strenuously disagreed with him theologically and liturgically."
The essay goes on to quote A.W. Ballard (1945):
"As far as doctrine was concerned Laud carried on the teaching of Cranmer and Hooker. He held that the basis of belief was the Bible, but that the Bible was to be interpreted by the tradition of the early Church, and that all doubtful points were to be subjected, not to heated arguments in the pulpits, but to sober discussion by learned men. His mind, in short, like those of the earlier English reformers, combined the Protestant reliance on the Scriptures with reverence for ancient tradition and with the critical spirit of the Ranascence [Renaissance]."
I shall close with a prayer written by Laud, and found in every Book of Common Prayer published since his time. It is my prayer, as well, and should be that of us all: I invite you – especially you who are of the Anglican observance, but it is equally open to all Christians, for obvious reasons – to use it, regularly!
For the Church.

O GRACIOUS Father, we humbly beseech thee for thy holy Catholic Church; that thou wouldst be pleased to fill it with all truth, in all peace. Where it is corrupt, purify it; where it is in error, direct it; where in anything it is amiss, reform it. Where it is right, establish it; where it is in want, provide for it; where it is divided, reunite it; for the sake of him who died and rose again, and ever liveth to make intercession for us, Jesus Christ, thy Son, our Lord. Amen.
---
("Catholic," in this sense, does not mean Roman Catholic, but in the words of another great Anglican luminary, Lancelot Andewes, "the whole Catholic Church: Eastern, Western, and our own.")