CHURCH AND YOUTH: THE SHOCK OF THE OLD | Latest News - The Prayer Book Society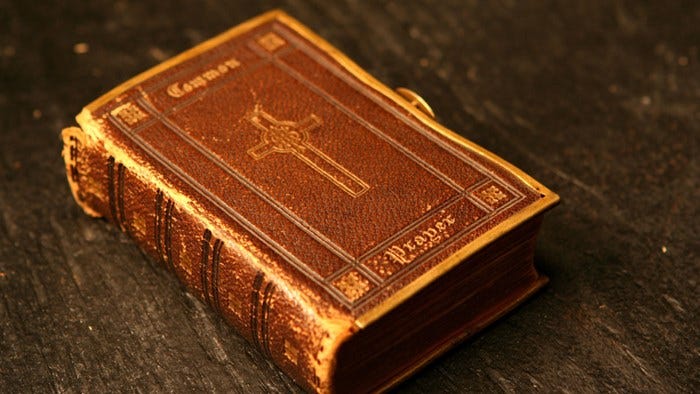 I have discovered that, alongside the depth that sustains my own prayer life, there is a remarkable breadth represented in the Prayer Book which, as a new generation tries to move beyond the toxic labels of the past, could provide a focal point for theological unity once more.
Source: CHURCH AND YOUTH: THE SHOCK OF THE OLD | Latest News - The Prayer Book Society
"I would, with tongue only slightly in cheek, suggest that liturgies such as Old Rite mass or Prayer Book evensong are truly inclusive, in that they are places where the churched, unchurched, and dechurched sit and allow the experience to wash over them. If even Richard Dawkins—a man who, I will admit, probably spends more time thinking about God than I do—can express affection for evensong, then I would suggest that there is an evangelistic potential in quiet dignity that we are not taking as seriously as we should. There is no introducing yourself to your neighbour, no enthusiastic hand-wringing at the Peace, no Blind Date-style "What's your name, and where do you come from?" during the notices. There is simply the experience of being in the presence of holiness.
"For a generation for whom the majority of socialising no longer occurs face to face, and for whom encounters with anxiety are common, while ones with rooted community are not, this breathing space is invaluable. It allows a gentle introduction in terms of what is required socially, without compromising the authenticity of what is required intellectually; neither overly polarising nor overly patronising. It is a space that leaves room to contemplate mystery."
Pure gold.
Read, mark learn, and inwardly digest.
---
Personal Note: I resonate strongly with this, because of my own personal history when it comes to the faith: I myself was brought (back) into it through The Book of Common Prayer. I came to the Anglican tradition in my mid-twenties. I had not grown up unchurched; far from it. I was baptized and raised a Methodist, the grandson of an ordained Methodist minister (and the only holder of an earned doctorate in our family so far, a Th.D. from Rutgers), the Rev'd Carl W. Reamer, and the son of a woman who was very proud of being a "Methodist minister's daughter."
I was an acolyte; I attended Sunday school regularly, not only as a child but through high school; when I also attended Youth Fellowship (and had some formative both social and spiritual experiences on retreats); I sang in the children's and, later, youth choirs. But I also grew up during a time – primarily the 1970s, mentioned in this article – when the church was changing, and not necessarily in positive ways (although its proponents thought it was, at the time, and some still do).
While my family upbringing was in the solid Christianity of my grandfather's and parents time (I was born late, in 1965 – my parents were members of the Greatest Generation, my father a decorated combat veteran of WW II; my brothers were born in the early 1950s), the Methodist Church of my youth – heavily influenced by the 1960s – was busily adopting the "therapeutic," "relevance," and "contemporary" models of "mainstream" Protestantism, which would morph in even more radical directions in the 1980s, '90s, and beyond.
On the subject of the "therapeutic model" – basically, "I'm okay, you're okay" – one of my memories of that period was the Sunday School teacher, who was a psychologist in secular life, teaching a unit on "warm fuzzies" and "cold pricklies." I do not kid.
Between a studious determination to make Christianity both "relevant" and inoffensive, and the consequent watering-down of both theology and liturgy, I quite frankly began to find it too milquetoast to be borne, and by the time I hit college I was beginning to drift away. And drift I did! My Praeparatio evangelica included not only the Methodism of my childhood, but explorations into various world religions, recreated historic ones, and forms of mysticism both East and West.
But I think it is fair to say that God was shaping my course even then, for I do not regret the things I learned in my long peregrination, and it at length brought me back to the faith – even more strongly and firmly than ever. Looking back on my journey, I found myself comforted both by the words of Henry Van Dyke, in his wonderful tale, The Story of the Other Wise Man:
Who seeks for heaven alone to save his soul, May keep the path, but will not reach the goal; While he who walks in love may wander far, Yet God will bring him where the blessed are.
and those of T.S. Eliot, who, I later learned, had become a convert to Anglicanism (of the "High Church" Anglo-Catholic variety):
"We shall not cease from exploration, and the end of all our exploring will be to arrive where we started and know the place for the first time."
It was while I was still questing – in the year of grace 1989, in the City of Westminster (Carroll County, Maryland), at the age of 24 – that God brought me to the incident that (while not immediately or completely resolving my doubts and questions) set me on the right track, and the one that led me to wear I am, now.
It was in October, and I had returned to Western Maryland College to complete my B.A.: a self-designed major in medieval studies. My family had moved up to Westminster from Columbia in the Spring of that year. But that summer, I had made the mistake of going through a stop sign without coming to a complete stop, and doing so within site of a Maryland State Trooper. Accordingly, I had been served with a summons to appear in court that October.
Having only moved up there fairly recently, I thought it advisable to find the Court House the night before my court date! I found it, but I also found a lovely little Gothic Revival stone church across from it, with a sign out front that read "Church of the Ascension, Episcopal." I was passingly aware of the Episcopal Church, from visits to Bruton Parish Church in Colonial Williamsburg with my family, and knew that it was the American equivalent to the Church of England: I had enjoyed a very powerful experience of Holy Communion in York Minster while on a study tour with WMC in 1985. And the medievalist in me was strongly attracted to that little church!
Well, when I arrived (with my girlfriend, the sadly now-deceased Jeanne Alpaugh, for moral support) at the Court building in Westminster the next morning, I discovered that I had gotten the date wrong! (Another example of divine intervention...?) I did not in fact have to appear that morning. So I suggested to Jeanne that we check out this lovely little neo-Gothic church, and she agreed. So we walked around outside, ooo-ing and aah-ing, and then decided to see if it was open. It was, so we went in and ooo'd and aah'd some more!
We were on our way out when we met the Rector, the Rev. Ronald S. Fisher – perhaps the holiest man I have ever known, with the exception of my aforementioned grandfather – and then-Deacon Berkeley Ford, on their way in to say Morning Prayer. They invited us to join them, and the rest, as they say, is history!
I was very much taken with the Daily Office, and with the Anglican tradition as a whole, which retained quite a number of elements which had been discarded by the Methodism of my childhood: a solid liturgical tradition; sacraments which were not merely symbols, but effected what they signified; the three-fold Orders of Ministry (Bishops, Priests, and Deacons); and a robust doctrine of the Communion of the Saints. After I had come back a couple of times – or maybe it was after that very first time, it may have been – Father Ron and Berkeley felt that I should have a Book of Common Prayer of my own, and gave me one.
But it was not the 1979 BCP that was already in use by then, and had been for a decade, but an older one: The Book of Common Prayer 1928, which as I later came to understand, was the last American Prayer Book to be fully within the classical tradition of Common Prayer (1549-1662 in the U.K., 1789-1928 in the U.S.). And what I discovered were not only the Daily Offices of Morning and Evening Prayer (and the shorter devotionals of Family Prayer in the back), but a liturgy for Holy Communion which was very similar to, but even fuller than, the old Methodist liturgy I recalled from my grandfather's days – which had been largely discarded by the contemporary United Methodist Church.
It was a homecoming. I was getting back everything that I thought I had lost, and more. And as I told my mother, when she expressed concern that I was abandoning my Methodist heritage, I was only returning to what John Wesley had intended, all along! I began studying up on Anglicanism.
Well, that was perhaps another way God was moving in all of this – because my sources included not only the library of the Church of the Ascension (which, though using the '79 BCP, successfully resisted the more radical transformation of the Episcopal Church, at least while Father Ron was Rector), but the library of Western Maryland College... which included the theological library of Westminster (Methodist) Seminary – and that had closed down in 1971. That meant that what I was reading about the Anglican tradition had all been written before the turmoil and iconoclasm of the later 1970s.
As a result, the Anglicanism I imbibed was the classical form. And it was that which held me to Christianity through all the years – and no few challenges and sorrows, as well as some joys – since 1989/90, and unto this day; which continued to draw me back in any and every time events seem to be leading me astray; and which eventually brought me to be ordained first a deacon and then a priest in the classical Anglican tradition. Thanks be to God!
So, yes, I can definitely relate to Fergus Butler-Gallie's linked article. It was the Prayer Book liturgy which caught my imagination, engaged my mind, touched my heart, and fed my spirit when I encountered it in my mid-20s, and it has continued to do so, right up unto this blessed day.