"Christians Deceived by the LGBTQ Movement" | American Thinker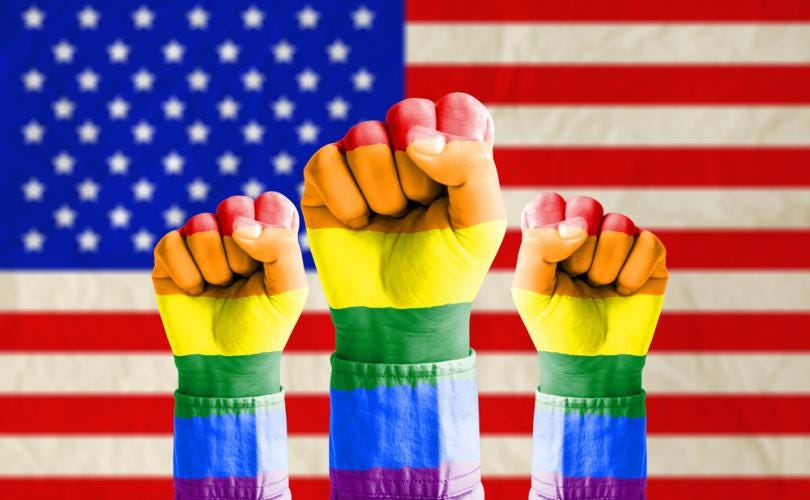 "LGBTQ activists are using every weapon in their arsenal to punish, humiliate, and destroy Christians."
Source: Christians Deceived by the LGBTQ Movement | American Thinker
At the risk of being accused of virtue-signalling, I want to state clearly that this is not intended as an attack on individuals involved in serious, committed same-sex relationships.
I have friends in that category, and while I may not agree with their choices (attractions and desires may not be a choice – are not, in fact; we all have attractions and desires, some of which may be more healthy, and some less – but how we respond to them most emphatically is), they are still friends, and "there is none who is without sin, no, not one."
Furthermore, what individuals do in the privacy of their own homes is not my business, unless they make it my business: either by asking me for spiritual counsel, or by insisting that I not only tolerate it as a private matter between consenting individuals (which is part of living together in a civil society), but "affirm" and even "celebrate" it as a public matter. That is where I draw the line.
And that is where LGBTQ+ activists – as distinct from people quietly and discretely living their lives, which is where people of any sexual orientation should be (with the possible exceptions of discussing the falling birthrate, or the fact that children do best when they have both a mother and a father [see also this, inter alia], there are few reasons to make one's sexuality the centerpiece of one's identity) – err most grievously, imho: they insist that their sexuality is core to their identity, in fact it's their primary identity, and d__n it, the rest of us had better celebrate it!
Leaving aside the fact that making sex the center of one's life points to issues far beyond merely who one chooses to engage in it with, this kind of attitude has serious – and negative – implications for Christians, or anyone else who disagrees with it, to the extent that these beliefs become or even influence public policy.
For example, this essay cites
"California's pro-LGBTQ Assembly Bill 2943 [which] threatens free speech and freedom of religion for Christians.  It uses the state's consumer fraud statute to make it illegal to 'distribute resources, sell books, offer counseling services, or direct someone to a biblically based model for getting help with gender confusion and homosexuality.'" 
As noted in the above quote, this has serious First Amendment implications for Christians, on both freedom of speech and free exercise of religion grounds.
But, either failing to understand this or willfully ignoring it, "Christians believe the LGBTQ movement's lie that they seek only Christian love and acceptance." Well, some may. Perhaps many may, as individuals. But clearly the LGBTQ+ activist squad – a highly active division in the cultural Marxist "fifth column" that has infiltrated American public discourse – has motives that are both broader and darker than that.
In any case, read, mark, learn, and inwardly digest!