Cardinal Burke: Christians and Muslims Do Not Worship The Same God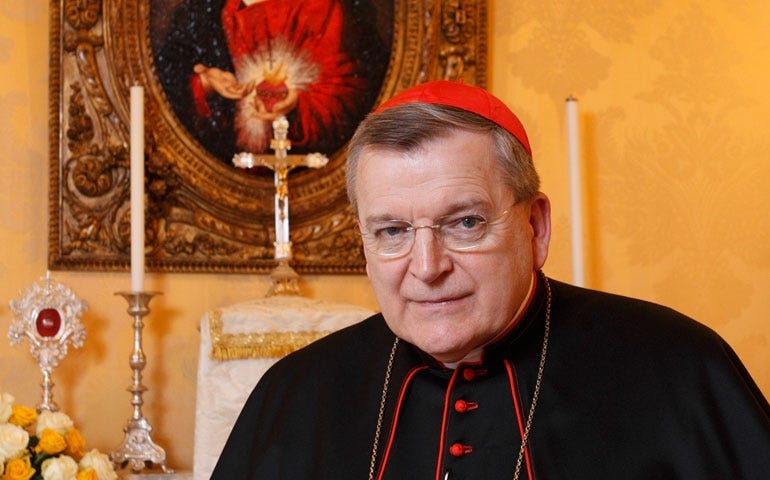 Source: Cardinal Burke: Christians and Muslims Do Not Worship The Same God
While unfortunately the current Pope, Francis, may be off the deep end in some respects, some of his Cardinals are pretty based! Here is Cardinal Burke:
"I don't believe it's true that we're all worshipping the same God, because the God of Islam is a governor," he said.  "In other words, fundamentally Islam is, Sharia is their law, and that law, which comes from Allah, must dominate every man eventually."
Now it is true that, in the Old Testament, God is sometimes referred to as "our Governor": for example, "O LORD our Governor, how excellent is thy Name in all the world..." (Psalm 8, verses 1a and 9).
But that is not His primary or key identity, even in the OT – and even in Psalm 8, where God is celebrated primarily as Creator, and it is "man" (e.g., humankind), not a particular religion, which God has given "dominion of the works of thy hands" – and it is certainly not in the New Testament:
"And it's not a law that's founded on love," said Burke.  "To say that we all believe in love is simply not correct." 
"And while our experience with individual Muslims may be one of people who are gentle and kind and so forth, we have to understand that in the end what they believe most deeply, that to which they ascribe in their hearts, demands that they govern the world," he said.  
"Whereas, in the Christian faith we're taught that by the development of right reason, by sound metaphysics, and then that which leads to faith and to the light and strength that's given by faith, we make our contribution to society also in terms of its governance," he said.
This is a fundamental contrast: when St. Peter wrote "Honour all men. Love the brotherhood. Fear God. Honour the king" (1 Peter 2:17), as is the tagline of this blog, or earlier in the same chapter, "Submit yourselves to every ordinance of man for the Lord's sake: whether it be to the king, as supreme; Or unto governors, as unto them that are sent by him for the punishment of evildoers, and for the praise of them that do well" ( the "King" (Emperor) was a pagan Roman.
Likewise St. Paul, who wrote, in Romans 13:1-7:
"Let every soul be subject unto the higher powers. For there is no power but of God: the powers that be are ordained of God. Whosoever therefore resisteth the power, resisteth the ordinance of God: and they that resist shall receive to themselves damnation. For rulers are not a terror to good works, but to the evil. Wilt thou then not be afraid of the power? do that which is good, and thou shalt have praise of the same: For he is the minister of God to thee for good.
But if thou do that which is evil, be afraid; for he beareth not the sword in vain: for he is the minister of God, a revenger to execute wrath upon him that doeth evil. Wherefore ye must needs be subject, not only for wrath, but also for conscience sake. For for this cause pay ye tribute also: for they are God's ministers, attending continually upon this very thing. Render therefore to all their dues: tribute to whom tribute is due; custom to whom custom; fear to whom fear; honour to whom honour."
Was writing of the secular powers – which again, in his day, meant the pagan Roman Empire. He is echoing, in that last verse, the words of Our Lord Himself, who said, "render unto Caesar the things that are Caesar's, and to God the things that are God's" (Matthew 22:21, Mark 12:17, Luke 20:25). He also stated, quite emphatically, "My kingdom is not of this world" (John 18:36). Thus it could be said that some essential degree of separation of Church and State is built into the very structure of Christianity. But there is no "render unto Caesar" in Islam; the Caliph is the Caesar! There is no "separation of mosque and state" in the ideology of Mohammed.
To return the words of Cardinal Burke,
"the Church makes no pretense that it's to govern the world, [he stated]. But rather that [its role is] to inspire and assist those who govern the world to act justly and rightly toward the citizens."
In other words, Christianity is to provide "leaven in the loaf," offering moral guidance but not governing: Christianity is not to be a theocracy, not until the Final Coming of Our Lord. And at that point, it will not be the Church which governs, but God Himself!
While this is not the only distinction between Christianity and Islam – the latter also has no doctrine of "Thou shalt love thy neighbour as thyself" (Matthew 22:39 et alii), still less "Love your enemies, bless them that curse you, do good to them that hate you, and pray for them which despitefully use you" (Matthew 5:44), a point to which Cardinal Burke also alludes in his comments ("it's not a law that's founded on love... to say that we all believe in love is simply not correct")  – it is nonetheless a vital distinction, and important to point out.
With such dramatic differences in understanding, both of God and of our proper relationships with God and one another – including human authorities – it is indeed difficult to reach any other conclusion than that the god Moslems worship is not the same God as the One – in Trinity of Persons and Unity of Substance, the Creator of Creation, and the Father of Our Lord Jesus Christ – worshiped by Christians.
Or if they are attempting to worship the same God – for the Christian God is not one god among many, but the God! – then they are doing it wrongly. Dangerously wrongly, for the sake of their own souls, and the well-being of this world of ours!