Beauty Matters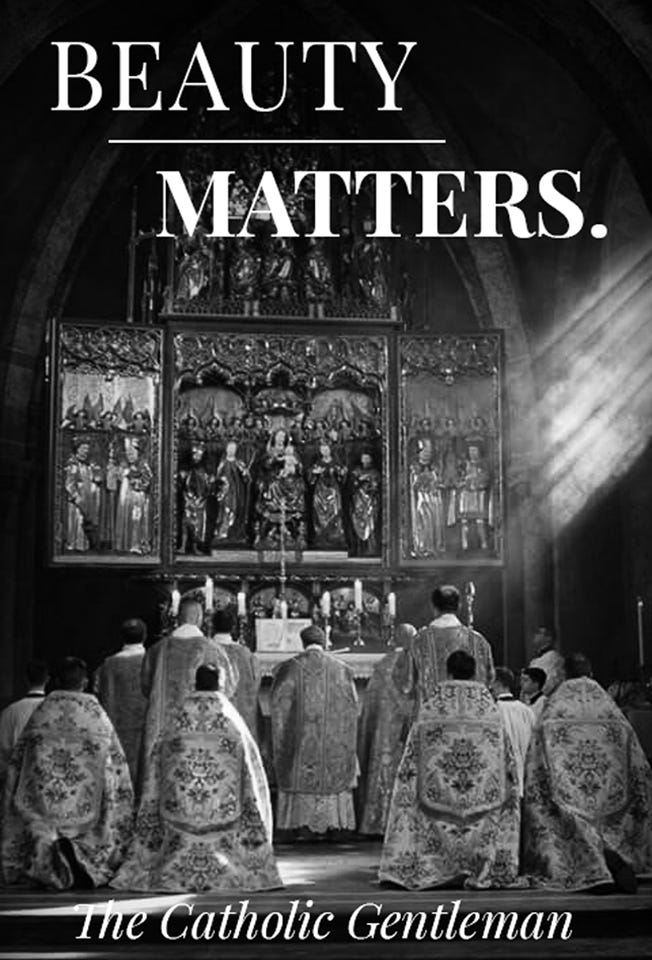 Indeed it does.
Nor is it limited to the Roman observance, although traditionalists in the Roman Catholic Church (and more generally, the liturgical, sacramental Churches, including Eastern Orthodoxy and – when it is being true to itself – the Anglican tradition) are often acutely aware of its importance:
"The only really effective apologia for Christianity comes down to two arguments, namely, the saints the Church has produced, and the art which has grown in her womb. Better witness is borne to the Lord by the splendor of holiness and art which have arisen in the community of believers than by the clever excuses which apologetics has come up with to justify the dark sides which, sadly, are so frequent in the Church's human history. If the Church is to continue to transform and humanize the world, how can she dispense with beauty in her liturgies, that beauty which is so closely linked with love and with the radiance of the Resurrection? No. Christians must not be too easily satisfied. They must make their Church into a place where beauty - and hence truth - is at home. Without this the world will become the first circle of Hell."
Pope Benedict XVI: The Ratzinger Report, p. 129
Beauty is indeed the birthright of all Christians – ours is, after all, a sacramental and incarnational faith, and therefore one which values the created order as an important source of God's self-revelation to us. The Scriptural warrant for this goes back at least to the Psalmist:
"Worship the Lord in the beauty of holiness."
Psalm 29:2, 96:9
And of course the classical Christian tradition, at least in the West, has repeatedly cited the "three Transcendentals" (Goodness, Truth, and Beauty) as not only pointing toward God, but being aspects or attributes of God – ones that we should seek to mirror and live out in our own lives:
[The] Three Transcendentals of ancient philosophy (which has so greatly shaped Christian Tradition) [are] the True, the Good and the Beautiful. To destructively compress Plato and the Neoplatonists, all truth points to the transcendent Truth; all good points to the transcendent Good; all beauty points to the transcendent Beauty; and in turn, the transcendent True, Good and Beautiful is the One, the source of all being, which classical theism identifies as God, and is in turn identified with the God of the Bible by orthodox Christianity.
In short: for Christians, "Beauty Matters." It is not an extrinsic, superficial adornment to our lives and our liturgy; it is an intrinsic, essential element of them.