A provocative essay: "Saving Christian Civilization Through Eros" | The Imaginative Conservative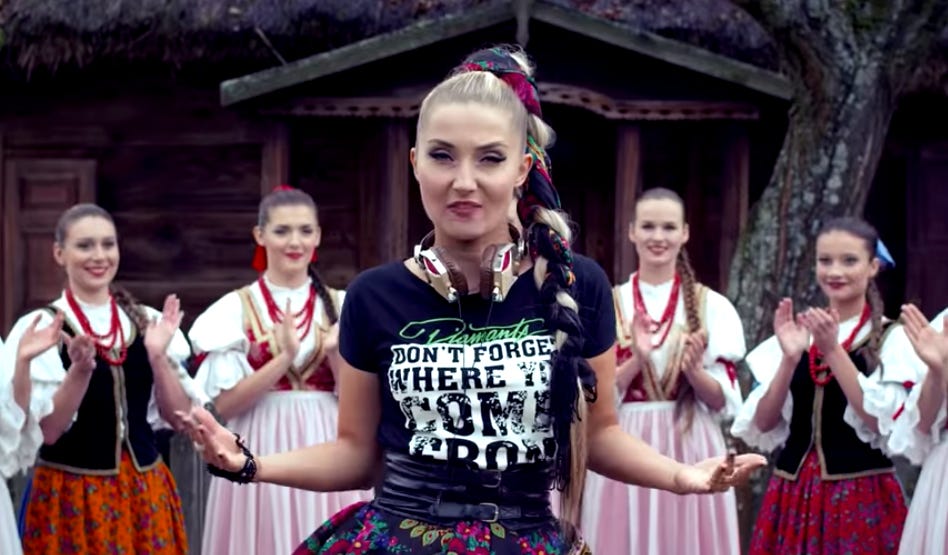 "Conservatives must now begin the restoration of civilization by promoting erotic love in order to bring us towards higher forms of  love—philia and agape. Specifically, it will be women who will save us, and their weapons will not be their brains, but their bodies."
Source: Saving Christian Civilization Through Eros ~ The Imaginative Conservative
Here's the video, from which the image above is a still:
[embed]https://youtu.be/r7wICm4Kuhw[/embed]
And here are some excerpts from Peter S. Rieth's commentary on it:
"What I behold is a Western world so morally bankrupt and decadent, that even the natural, primitive sexual appetites that make men attractive for women and women attractive for men have been erased in Western minds. Decades of feminist propaganda have led to a Western society that has liberated itself from even eroticism.
"It has come to this—that a conservative must now begin the restoration of civilization from such a low, low point as to proclaim in the public square: Men should try to look attractive for women, and women should try to look attractive for men, because we require erotic love in order to bring us towards higher forms of  love—philia and agape."
"The video screams out to European men: have you forgotten what women are? Have you forgotten what erotic love is? Have you all gone sterile? For it seems that Western European man has indeed forgotten what women are. Eastern Europeans and Russians certainly have not...
"Imagine a world without erotic love—a world of 'tolerance' and homosexual-inspired androgyny. Indeed, this world is fast approaching, and is upon the West already. It is a world without the vices associated with erotic lust. True. [*] But it is also a world where the natural virtues of spiritual love, often born of erotic love in the maturing years of youth, will also be abolished."
"Specifically, it will be women who will save us, and their weapons will not be their brains, but their bodies."
An interesting and provocative – in several sense of the word! – thesis, this. Worth reading and pondering, in my opinion.
One cautionary point: this is not permission for promiscuity and fornication, even in a heterosexual context! The traditional Christian standards for properly ordered sexual expression – chastity, defined as celibacy while single and fidelity while married – remain the same. But as a comment on the friend's page I borrowed this from aptly noted,
"The church historically seems to have taught [that] erotic love and marriage is only for procreation and you better not enjoy it! But if we read both Solomon and St Paul, we see a different frame of mind. The command is not to covet or lust after what is our neighbour's, ... but what about coveting what is ours?
[The Anglophilic Anglican notes: Of course we cannot technically "covet" that which is already ours, as the definition of "covet" is to desire what is not already ours. But you get the idea: we certainly can, and indeed should, desire what is our own.]
"Solomon encourages his young student to 'rejoice with the wife of his youth. Let her be as the loving hind and pleasant roe; let her breasts satisfy thee at all times; and be thou ravished always with her love.' And the very next line reads... 'And why wilt thou, my son, be ravished with a strange woman, and embrace the bosom of a stranger?' This teaching of wisdom brings the commandment into its proper context. Passion is for the marriage bed only.
"St Paul states to abstain from sexual relations while unmarried (commanded by God from the beginning), but a married couple are not to withhold their bodies from each other. And as the author of Hebrews wrote, 'Marriage is honourable in all, and the bed undefiled: but whoremongers and adulterers God will judge.'
"Eroticism as God intended is a thing of beauty and goodness."
Indeed!
---
N.B. This essay is a very concrete example of C.S. Lewis' "argument from desire" (or "apologetic of desire") – that ordinary human desires, which are at least capable of fulfillment here on earth, can serve to lead the soul "onward and upward" ("is that all there is?") toward the desire for union with God, which can be wholly fulfilled only through supernatural means – a thesis discussed in much more arcane detail by the eminent Peter Kreeft here.
---
* This is not entirely true. Although some, both women and men, in today's West are indeed giving up traditional romantic and even sexual relationships, that does not mean that they are, in the main, turning to the study of history, philosophy, theology, or the arts instead.
What seems to be happening, so far at least, is the replacement of normal, natural erotic desire – that associated with the natural attraction of men for women and women for men, which carries with it at least the potential of procreation – with unnatural, disordered, increasingly perverse forms of erotic lust, coupled with the intentional extinction of procreation through abortion.
I am reminded of Tolkien's dictum that evil can create nothing on its own, but can only pervert, warp, and twist that which already exists...
Oh, and one final comment: I am not sure I entirely agree with "their weapons will not be their brains, but their bodies." I don't disagree with it, either; but it's not entirely accurate, I think, as stated.
A great deal of eroticism is not merely one's body, but how one uses it – and that is definitely a function of brain-power. The body churns the butter, or kneads the bread: both functions which can be built into a machine. The brain figures out how to do so suggestively!