A Clerk of Oxford: The Anglo-Saxon O Antiphons: O Virgo Virginum, Eala wifa wynn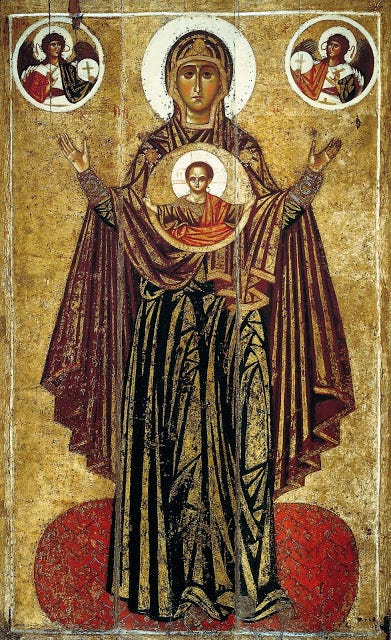 Source: A Clerk of Oxford: The Anglo-Saxon O Antiphons: O Virgo Virginum, Eala wifa wynn
For those following the "Sarum Use," which began Sapientiatide (the season of the "Great O" Antiphons on the Magnificat) on December 16th instead of 17th, today is the day of "O Virgo Virginum":
O Virgo virginum, quomodo fiet istud? Quia nec primam similem visa es nec habere sequentem. Filiae Jerusalem, quid me admiramini? Divinum est mysterium hoc quod cernitis.
O Virgin of virgins, how shall this be? For before you there was none like you, nor shall there be after. Daughters of Jerusalem, why do you marvel at me? What you behold is a divine mystery.
O joy of women, beyond the glory of heaven, most noble virgin through all the corners of the earth of whom sea-dwellers ever heard tell, explain to us the mystery which came to you from the skies, how you ever conceived a pregnancy, the bearing of a baby, when you never knew bed-companionship according to the ways of men. Truly, we have not heard of such a thing ever occurring in former days, as that you, with special grace, conceived in this way, nor should we ever expect that event to occur again in time.
See also:
The Advent Antiphons: O Virgo virginum
in Wanderings: Pondering the faith in this life of pilgrimage