A Brief History of the Great British Sunday Roast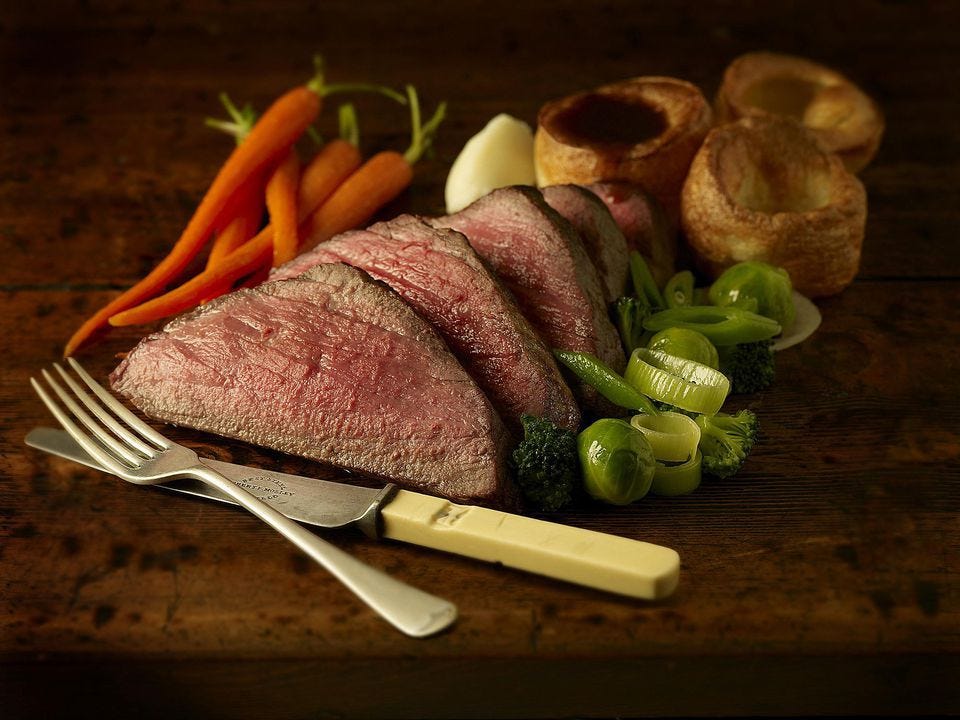 Source: A Brief History of the Great British Sunday Roast
When mighty Roast Beef was the Englishman's food, It ennobled our brains and enriched our blood. Our soldiers were brave, and our courtiers were good Oh! The Roast Beef of old England, And old English Roast Beef!
— "The Roast Beef of Old England," by Henry Fielding (1731)
I'm a bit late in the day for this week, but perhaps some inspiration for next Sunday...?
"The British love of beef, and particularly for lunch on a Sunday, is nothing new, as it is such a part of the national identity, that even the French call us 'rosbifs' (roast beef). The Sunday Roast came to prominence during the reign of King Henry VII in 1485 and the Yeoman of the Guard – the royal bodyguard – have affectionately been known as 'beefeaters' since the 15th century because of their love of eating roast beef."
Read on for more! See also How to Cook the Perfect Sunday Roast, these Tips and Recipes for Cooking the Roast Beef, and of course, this guide to cooking the Traditional Yorkshire Pudding that is the classic accompaniment to the Sunday roast.
My own dear late mother cooked a roast of beef, with most of the traditional accompaniments (sans Yorkshire pudding), for midday dinner every Sunday through most of my childhood and into young adulthood. It was such a fixture that one of my brother's girlfriends was once reported as asking, "Does she know how to cook anything else?" – since she only came over for dinner on Sundays, and of course, that was what was on the menu!
Ma's version was of the "pot-roast" variety – the beef, potatoes, onions, carrots, and sometimes celery were cooked in the pressure-cooker, while we were at church, rather than in the oven, and she served it with "essence" (what the French would call au jus), rather than gravy – but for all that, it was nonetheless a continuation of the old tradition, and one I must say I rather miss.